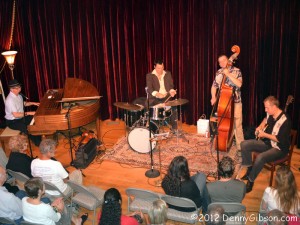 Though far removed from their natural habitat, these Parisians appear to be well acclimated and enjoying themselves. And so is everybody else. Local boogie woogie master Ricky Nye makes at least one trip to France each year and, for the last three years, these fellows have been returning the favor. Using the name Ricky Nye and the Paris Blues Band, they do a few shows in and around Cincinnati and I've managed to catch one of them on each of the visits. The first two years, it was at Rabbit Hash, Kentucky, where they performed Friday night. This year I missed the Rabbit Hash show but saw the group on Saturday at the Big Song Music House. This is the remarkable venue that Marc & Lisa Biales have created near Oxford, Ohio, and which I visited for the first time just about a month ago.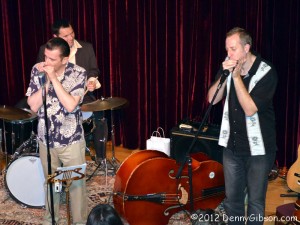 The Paris Blues Band, which doesn't really exist without Ricky, consists of Simon Boyer on drums, Thibaut Chopin on bass, and Anthony Stelmaszack on guitar. Chopin and Stelmaszack both sing and, as you can see, both play harmonica. Ever hear twin harmonica powered locomotives steam across a stage? Killer!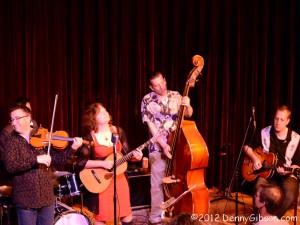 The excellent Ville Du Bois, recorded in Paris, is the group's only studio offering to date. (Wrong! See note below.)
I apologize for being unfamiliar with a collection of live recordings that is also available. They are doing quite a bit of recording while in the States and that includes some with Biales. The songs they recorded together were used as openers for both sets and violinist Doug Hamilton even joined in for a couple of tunes. There will definitely be a new Ricky Nye and the Paris Blues Band studio CD available before too long and I'm sure those tracks with Lisa will appear somewhere somehow someday.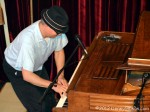 It's a good thing when Ricky pushes himself back from the piano in a move that looks a little like something Jerry Lee Lewis might do. It's an unintentional signal that some extra hot keyboard action is about to take place and it's kind of rare. Maybe it was the band or maybe it was the acoustic (rather than electronic) piano but there were three or four of those moments tonight and one that ended with Ricky standing as he joyously worked the keys. Fortunately for those seated just a few feet away, he stopped short of sending the bench sailing as Jerry Lee often does. There's a little better view of the 1930ish Wurlitzer Butterfly Baby Grand here.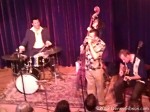 I left my camera in the car until intermission so all of the preceding pictures are from the second set. But it was during the first set that Lisa surprised everyone, including Thibaut, by filling in on bass while he played harmonica. In another "If you want a picture really bad, I've got a really bad picture" moment, I tried capturing that with my phone.
CORRECTION: I somehow missed a second studio CD but Ricky very politely filled me in. The CD is here and the cover actually looks familiar though some track samples don't. It shows up at CDBaby with a search for Paris Blues Band though not with a search for Ricky Nye. That's my excuse and I'm sticking to it but I'm still sorry and embarrassed.