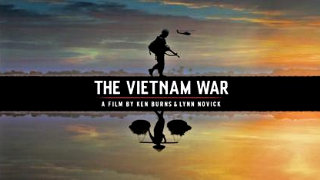 This isn't a very deep review. It is, however, a very deep and sincere recommendation. The eighteen hour documentary is simply the best thing I've seen in years. PBS broadcast the first of ten episodes on September 17. I watched it and the next one, and was hooked. Circumstances kept me from watching the remaining episodes when broadcast, but I did eventually see them all via online streaming. It was announced that the stream would only be available through October 15 but it still appeared to be functioning on the 17th. Check The Vietnam War for details and other sources.
There's no question that one reason I found this production so engaging is its familiarity. I recall many of the described events from when they happened in the 1960s and early 1970s. There was both a refreshing of memories and a filling in of unknown details. But there was also plenty of totally new information, particularly concerning the earliest years, that made me realize things were even more screwed up than I thought they were; And I thought they were really screwed up.
Burns and company pulled together a lot of sources in an attempt to present every aspect from every angle. The result probably isn't perfect but it's mighty close. Recent interviews with a variety of participants help illuminate some of those angles and add insight and credibility.
I was more on the sidelines than not, but I was there. Watching this movie made me remember some of the clearly stupid and arguably evil things my country did. Someone in their 20s or 30s for whom the Vietnam War is more ancient than World War II was for me, won't have those memories to be reawakened. We will see the history telling aspect of the movie differently. But I can't imagine anyone watching this epic and thinking of it as nothing but a history report. Seeing the divisiveness associated with the Vietnam War in the divisiveness of today seems unavoidable to me. I believe that the twentysomethings of both the 1970s and the 2010s can't help but see some similarities.
If you're looking for a little entertainment that will take your mind off the world, this ain't it. This will, in fact, press your mind firmly against the world of fifty years ago and help it remember and/or understand that world. I'm betting it will also get your mind thinking about the world of today although it probably won't help in understanding it.