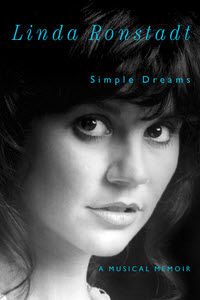 On my most recent road trip, I drove through both Tucson, Arizona, and Tucumcari, New Mexico. I did not drive directly from one to the other. A dozen days and even more towns separated my time in those two cities so that I did not, as the line in that song says, go "from Tuscon to Tumcari". Of course that little detail did not keep references from being made by others or prevent me from mentally humming one of the greatest bits of alliterative road trip poetry ever:
I've been from Tucson to Tucumcari
Tehachapi to Tonapah.
The words are from Willin', a song on Linda Ronstadt's 1974 album "Heart Like a Wheel". But it's not a Linda Ronstadt song. Not only didn't she write it. She did not, as might be said of some of her other covers, "make it her own". In my view, that would be impossible. Linda might sing "I'm drunk and dirty, don't you know" beautifully but it's not remotely convincing. I can accept Lowell George, the bearded Little Feat guitarist who wrote Willin', as the sometimes law skirting truck driver the song is about. Linda Ronstadt? Hardly.
I know that sort of stuff doesn't bother everyone. Sometimes it doesn't bother me all that much either. Other times it bothers me a lot. Sometimes (just once actually) it bothers me to the point of rather sincere hatred. Here's how.
Little Feat recorded Willin' a couple of years before Ronstadt did and I believe I heard that version first. Or maybe I heard them both about the same time. Whatever the case, I knew of both and, while I thought it silly for this sweet voiced young girl to claim she'd "driven every kind of rig that's ever been made", I was not particularly upset about it. I bought "Heart Like a Wheel" and her 1976 "Greatest Hits". Then came '78.
Warren Zevon's "Excitable Boy" was released in January of 1978. It contained Werewolves of London which got a lot of air play and my attention. The name was not entirely unfamiliar to me (I read liner notes.) but the music was. I bought "Excitable Boy". I went to see Zevon live. I bought the only other Warren Zevon album readily available. Titled "Warren Zevon", that other album had some tunes on it that I had heard before. There was Hasten Down the Wind, which Ronstadt had recorded and used as the title track of an album she released in 1976. And there were a couple of songs that had appeared on Ronsadt's "Simple Dreams" album. One was Carmelita, which, despite the Willin' like gender mismatch and the ill fitting drug references, Linda had performed admirably. The other was Poor Poor Pitiful Me. That's where the trouble started.
Even though Linda's covers of songs like Willin' and Carmelita challenged my imagination a little, they presented the material accurately as well as beautifully. Not so her version of Poor Poor Pitiful Me. I had heard Linda's version quite a bit but readily admit that I had never paid a lot of attention to the lyrics. I thought it a catchy little tune about someone with a little bad luck. Now I heard the song directly from its creator and it wasn't like that at all. As much as just about any song that Zevon has written, Poor Poor Pitiful Me is filled with dark edged humor. Its calls for pity are clearly facetious. Its characters about as scary as they are seductive. None of this is visible in Ronstadt's version. Part of it is gender related. When Warren complains that "These young girls won't let me be", you can hear the wink in his voice. When Linda makes a similar complaint about "These young boys" you simply believe her. Linda singing about the Yokohama boy who "threw me down" asking "Please don't hurt me Mama" doesn't seem humorous at all. When Warren says the same line to a girl who threw him down, that audible wink is very much in evidence. Actually, he didn't sing about Yokohama at all in that studio recording. Instead there is a verse about a girl who asks Warren if he'd "beat her" which would have definitely been tough for Linda to use.
This was just too much for me. Here the sweet voice and gender change did not just challenge my imagination. It altered the meaning of the song entirely. I saw it as an intentional and criminal act to disarm Zevon. The relatively minor changes to Carmelita also became more sinister as I started viewing them as part of the plot to suppress Zevon's art. In my mind, Linda Ronstadt suddenly changed from a talented singer to a despised creature who sucked the soul out of songs and turned them into sugary pablum. My outrage might not have been justified but it was certainly sincere. I truly disliked this woman. I've only recently learned that one of the things that sent me over the edge just wasn't true. I have read that, according to Zevon himself, the "beat her" line was ad-libbed in the studio. Except for the gender change, Linda had sung the verse as written.
Although that last discovery makes my near hatred seem even sillier, it really played no part in my getting over it. Time naturally caused it to fade but I've actually dredged it up and erased it. I was always a little ashamed of it and am glad it's gone. In the end, all it took was a close look. That look started when I first met one of Linda's nephews and became a little more serious when I met a brother and another nephew. Linda's brother Michael J and his sons Michael G and Petie perform as Ronstadt Generations and have been mentioned on this site a few times. At my first meeting with Michael J, I remember wondering if he could tell I despised his sister. I also remember thinking that he was a really nice person and that his sister probably was too. Unless he has well disguised mind reading skills, Michael J has no idea how I feel about his sister. She has never been a topic in any conversation I've had with any of the Ronstadts but the contact did make me revisit those ill feelings from the 1970s, realize how ridiculous they were, and dump them.
I still don't like Ronstadt's version of Poor Poor Pitifil Me at all and I'm not all that fond of her rendition of Carmelita either. For me, Willin' is and will always be a Lowell George song and not a Linda Ronstadt song. But some people really like her versions and I'm guessing that George and Zevon have been financially helped more than hurt by them. I'm quite happy over the fact that I can now admit to myself that Linda's version of Hasten Down the Wind is at least as good as the original and that her recording of Blue Bayou, while I personally will never pick it over Roy Orbison's, is pretty darned good.
That's the cover from Linda's year old autobiography pictured at the top of this article. I've used it for two reasons. One is that it is what I would use if reviewing the book (which I'm not) so I probably won't get sued over it. The other is that it's a face that's not easy to connect with smuggling "smokes and folks from Mexico" or being "all strung out on heroin on the outskirts of town" and maybe that will support my point about ill-fitting songs a little. I have not read the entire book but scanned through it to learn that Linda actively sought out Lowell George in order to learn and record Willin'. On the other hand, Poor Poor Pitiful Me, was not only not appropriated in some dark plot to gentrify Warren Zevon, but was pressed on Linda by mutual friend Jackson Brown.