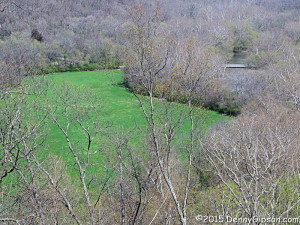 It's beginning to look a lot like summer. That was basically true last weekend for my circumnavigation of Indianapolis and has become ever more true with each passing day. Yesterday I went to a favorite nearby breakfast spot, Paxton's Grill. The food and service are always great but a wonderful bonus is the option of eating outside in warm weather. The temperature was in the fifties as I crossed the street intending to enter but, as I approached the front door, I noticed that the outside tables were set up and ready. I asked, got an enthusiastic "OK", and took a seat on the empty patio. It wasn't empty when I left. It was, in fact, pretty much filled.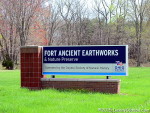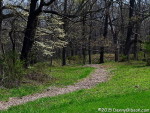 The temperature had gone up as I ate which meant the top could go down when I left the restaurant and set out on a little Saturday morning drive. It was more or less aimless although I did sort of meander along the Little Miami River. When I crossed the road leading to Fort Ancient, I made it a destination. The photo at the top of the article was taken looking northwest from an overlook in the park. That's the Little Miami River and a bridge carrying OH-350 on the right. The leafless trees may not look too summery but the green grass proves that the next season is coming our way rapidly.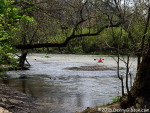 Morgan's Canoe Livery and public access to the river is less than a mile from Fort Ancient. As I stood watching the water flow by, two couples arrived in a pickup truck carrying two small kayaks. I admit to being a little surprised when I realized that the two women would be traveling by water while the menfolk drove down river to meet them. I wasn't shocked and I spent zero time questioning it but it honestly was not what I expected. As the women headed off on the rather high and rapid water, I learned from the men that the kayaks were newly acquired and that this was the women's first outing in the new green boats. I was impressed and I was envious. I used to live by this river about fifteen miles downstream from here. I miss it. I had a canoe and a kayak and a bunch of inner tubes and I miss them, too. I chatted with a fellow who was heading off in a rented canoe for some fishing then walked up to the office to check out prices and stuff. I'll be back.