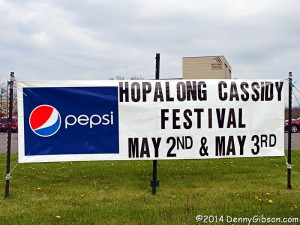 I don't know where Hopalong Cassidy was born. I don't even know if his creator, Clarence E. Mulford, ever gave Hoppy a past that included parents. But I do know that William Boyd, who portrayed the fictional cowboy in movies and on both TV and radio, was born in Hendrysburg, Ohio, and that once a year, the folks in nearby Cambridge, hold a festival bearing his name. This year, I was paying more attention than usual and managed to attend the festival for the first time.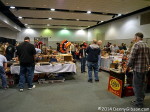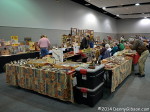 One of the festival's big attractions is the collectors exhibit. Virtually everything displayed is for sale but, as is typical, there is a lot more looking than buying. Movie posters, games and other toys, and just about everything else ever associated with the cowboy heroes of the middle third of the last century is in there somewhere.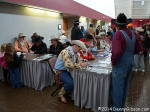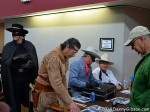 Cowboy and girl look-alikes are another major attraction. They spent a good deal of time behind tables signing photographs but they could also be seen just walking around the festival. It was easy to imagine a rancher's wife turning to her husband and asking "Who were those masked men?"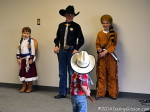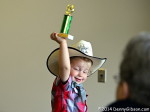 I was there on Saturday which was contest day. First up was the Little Buckaroo Contest. All four participants managed to win a trophy but most of the crowd would have probably been happy if every prize in the place had been awarded to the shy fellow in the second picture.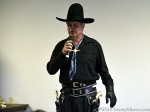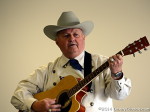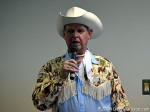 The look-alike contest was a little more serious but not much. When I saw the phrase "look alikes" on the festival schedule, I envisioned a town full of Hopalong Cassidys. That wasn't the case at all and I believe that the only real duplication was two Lash Larues. This is a well organized and coordinated activity. There were two John Waynes but one was the eye-patch wearing Rooster Cogburn and the other represented Wayne from an earlier era. Two Lone Rangers marked a changing of the guard. The "blue" Ranger is retiring this year and was introducing the "red" Ranger who, in the future, will be the lone Lone Ranger. In my opinion, anyone who cannot identify the three hombres in the pictures had best stay away from festivals of this sort.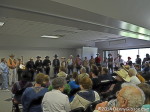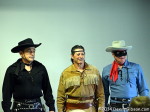 Getting all the contestants in a single picture wasn't easy. That is an impressive line-up for sure. A panel of judges selected Lash Larue, Tonto, and the Lone Ranger as finalists then audience applause was used to select the winner. Maybe. All three rounds of applause sounded about the same to me and it's just possible that first place was awarded to the Ranger partly for sentimental reasons. As I mentioned earlier, this is his last appearance and, although he promised he would be back at the festival next year, he will conceal his identity by not wearing a mask.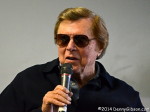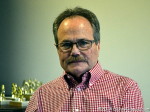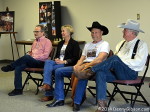 A third festival draw is this bevy of stars. That's John Provost of Lassie, Roberta Shore and Don Quine of The Virginian, and Don Collier of High Chaparral in the group picture. Edd Byrnes of 77 Sunset Strip arrived shortly after the picture was taken. That's John and Edd in the individual shots. Edd's scheduled appearance got the most discussion when the festival came up a week or so ago. Friends wondered if the former Kookie still owned or needed a comb. I just take the pictures and leave it to others to decide if that hair is eighty years old and/or its natural color.
---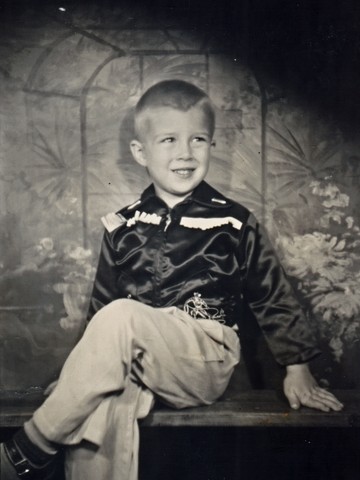 I don't recall ever seeing a Hopalong Cassidy moving picture show in the theater but I was a big fan of the TV show. I remember having a Hopalong cap pistol and holster but my prized possession was a belt. It just now occurred to me that the belt and holster may have originally been a set but my memories are far too dim to say. The belt was black with a script "Hopalong Cassidy" and men on horses in white. I suspect that part of my belt focused favoritism was due to my being able to wear it full time whereas there were Mom defined limits on where I could tote a gun. The name and figures were merely printed on the black leather and were eventually rubbed away so the only a few flecks, none of which resembled a letter or a horse or much of anything else, were left. It was impossible to tell by looking that I accessorized my garb to honor Hoppy but I knew.
The belt's buckle was stamped out of thin metal to imitate perfectly (I was certain) solid silver. It was always on my left side. Dad worked in a factory and wore his belt buckle on the side to keep it away from his work. I did the same for years and can't remember when I stopped. I do remember one unintended result. On a visit to the big city (Greenville, Ohio, 2012 population 13,105), probably while Mom tended to my younger sister, I checked the light, looked both ways, and darted into the path of a turning car. It was moving slowly and stopped immediately but I was knocked to the ground. Mom, the driver, and everyone else in the area quickly clustered around me. A thorough examination revealed that my only "injury" was a red and slightly sore impression of the belt buckle on my side. Hopalong Cassidy saved my life.
My search for a picture with the belt came up empty so the best I can do is the shot of me with some sort of cowboy scene on my jacket. I'm not sure Hoppy would approve of the gaudy fringe but I know he would have liked the color.