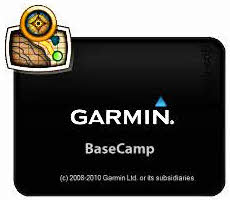 It looks like Garmin BaseCamp first appeared in 2008. I don't recall when I first downloaded it but I do recall that it sucked. I use Garmin hardware and Garmin software is required to communicate with it. BaseCamp was the intended replacement for their MapSource program and, while I was hardly a fan of MapSource, at least it didn't crash or hangup too often. Early BaseCamp did both somewhat regularly and its user interface was no more intuitive to me than MapSource's. I put off switching as long as I could but the day came when I was forced to replace a program I didn't like at all with one I disliked even more.
We've come a long way, BaseCamp and I. It has added some features that I suspect were initially put there to distract me from the frequent blowups and it quit blowing up as much. For my part, I've become more familiar with the interface and more tolerant of its oddities. I'm fairly comfortable with the arrangement of lists and folders that once mystified me and I've even plotted a few short trips entirely within BaseCamp. In fact, I'm pretty much ready to concede that my preference for creating routes in DeLorme's Street Atlas now comes mostly from familiarity and not from any real superiority. BaseCamp's ability to geotag photos using recorded tracks is quite convenient and the display of geotagged photos is very usable although I remain irritated by thumbnails hiding map details like town and road names.
Of course, personal preferences and peeves will soon be meaningless. Garmin acquired DeLorme in 2016 and Street Atlas development has already ceased. The 2015 edition is the final one and it is no longer available from DeLorme although a downloadable version is currently still available from Amazon. Necessity is the mother of many things but I am glad that it didn't become necessary to rely on BaseCamp much earlier. BaseCamp has grown into a capable product and the necessity of becoming more familiar with it will eventually be a good thing. Other good things could come from the acquisition if DeLorme developers move to Garmin and bring some of those things I like with them. I'm not counting on it but it could happen.