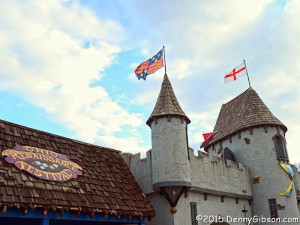 I think I attended the very first Ohio Renaissance Festival in 1990 though it's possible that my first visit was in '91 during the festival's second season. It was great fun regardless of when it happened. I visited Willy Nilly-on-the-Wash, the fictional home of the festival, a few more times during the next decade then I stopped. I have no idea why. I was never a regular. I never went more than once a year and doubt I ever went two years in a row. Every two or three years seemed about right until it somehow dropped completely off my schedule. I'm sure I haven't been there since at least 1999 which means that yesterday was the first time in the twenty-first century that I visited the sixteenth century. It's changed.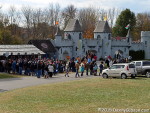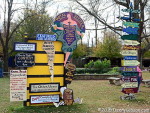 I heard something on the radio about the festival just before it opened this year and decided I really should check it out. It runs for eight consecutive weekends with each week having a theme. There is a Pirates Weekend, a a Barbarian Invasion Weekend, and other fun sounding themes including OktoBEERfest!. This was the only weekend I had free. It's Romance Weekend. By buying my ticket online I saved $1.14 (20.81 vs. 21.95). I wondered whether it was worth it but once the car was parked it became clear that I had done the right thing. My print-at-home ticket let me go right through the entrance on the right instead of standing in one of the lines on the left.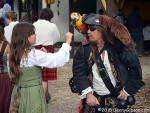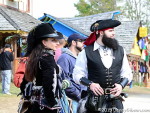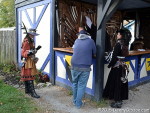 People in period dress (more or less) are everywhere and it's not always easy to tell if they are officially part of the show or just highly motivated patrons. I'm only half sure the lady shopping for new cutlery is an amateur and even less certain about the others. I've never been actually confronted about photographing someone but I have had a few hard looks. It the look comes before I've fired the shutter, the shutter remains un-fired. At this sort of event, the exact opposite is more likely. When I took the second picture, I was actually targeting that magnificent beard but the lovely lady beside it noticed me and made sure I got her best side.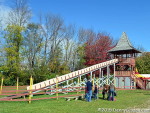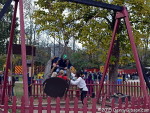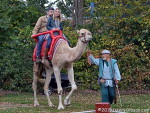 Thrill rides are powered by gravity or muscle. There are, of course, weight limit and "you must be this tall" signs but those aren't the only restrictions.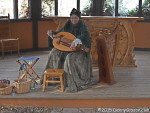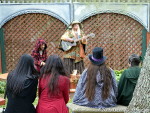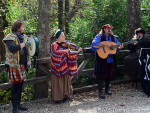 Music is plentiful and good. There is even a genuine honest to goodness hurdy gurdy.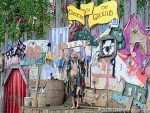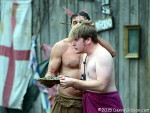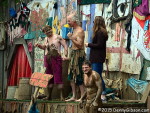 Actually, entertainment of all sorts is plentiful. One of the perennial favorites is the Theater in the Ground (a.k.a. Mudde Show). I caught a a performance of Dante's Inferno and yes he does. They somehow talked a lovely lass from the audience into playing the role of Beatrice and much to my amazement kept her quite clean. The narrator didn't fare so well. I lingered behind to get a picture of the bare stage.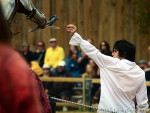 Knights on horseback are every bit as popular as men in mud. There are full-tilt jousts several times each day and before each joust the knights demonstrate some of the skill involved by charging past their squires and plucking rings from their fingers. The lances used are considerably smaller and lighter than the ones they will use in the actual joust.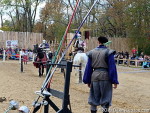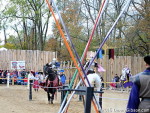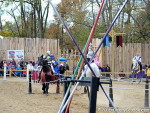 Although I was quite happy to get it, my seat for the joust wasn't the best. It was easy enough for me to look past the array of lances but that might be a little tougher in the pictures. In the first picture they are just about to meet. In the second and third thay have just met and some fairly dramatic things are happening. I suppose most folks would simply post some video from their smart phones but I'm a bit more old fashioned and have created a couple of triptychs. One begins with that second photo in which the lance of the knight on the white horse has just snapped. The second begins with the third photo where the knight on the black horse is about to lose his lance.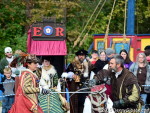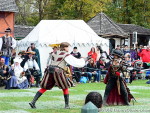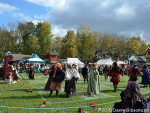 Though bigger and better than when I last saw them, the joust and mud theater have been part of the festival since its beginning. The human chess match was new to me. I didn't really follow things closely or understand all the rules but it is obvious that captured pieces do not just leave the board/field willingly. Note Elizabeth Regina watching the game in that third photo. The queen's presense is often felt throughout the festival. I had encountered her shortly after entering and snapped a few pictures of her and her entourage. She spotted me and paused as she passed. There is an "official" photo of the queen that appears on the festival website and in brochures. I borrowed it to pair with mine.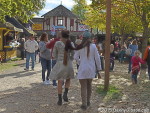 This is, as I said, Romance Weekend so I'll end with this touching image of two smitten youths, with odd curly things on their heads, sharing a scarf.