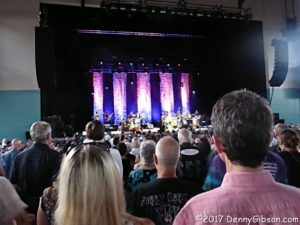 A couple of recent posts spoke of how "I'm not moving like I used to." Neither am I going to concerts like I used to. I still like live music and often catch both local and big time performers in smallish venues but when it comes to large venues and super stars, I've become pretty selective. I don't like the large crowds and the various hassles that go along with them. I don't like the large ticket prices. Adjusted for inflation, the third row Beatles ticket I bought for $5.50 in 1966 would cost $41.64 today. My twenty-first row seat at Saturday's Paul Simon concert was more than twice that ($91.50) though that might be justified. The sound system did seem much improved over three Vox amplifiers and some microphones. But most of all I don't like the outrageous and unavoidable fees that are stacked on top. Those fees added more than 25% to the Simon ticket. How the hell did we let that happen?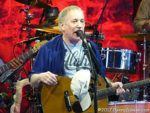 So when I do attend a big crowded high-priced musical affair you can bet it's someone I really want to see. It's probably someone I've wanted to see for a long time but just never quite managed so that seeing them has become something of a bucket list item. In fact, there's a pretty good chance that the performer and I are both within kicking range. That was the case with last summer's Steely Dan concert and is the case with a Van Morrison show I'll be attending this fall. It was the case with Paul Simon.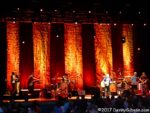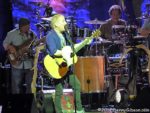 Maybe Paul's lost a little vocal range or can't kick as high as he once did but how would I know? He delivered every thing I hoped for. The songs he played came from every part of his career and I knew almost all of them as did almost all of the audience. The eight piece band made me think of a cross between the Mothers of Invention and the E Street Band. They weren't quite as tight as the E Street Band but the range of instruments and the levels of talent were pretty close. And they weren't as loose as the Mothers but they did show a ton of flexibility. Everybody played multiple instruments — even the drummer played a mandolin at one point — and they were all good.
Paul played an acoustic guitar for "Me and Julio Down by the Schoolyard" and when the song ended a stage hand approached with a solid-body electric and they swapped. As Paul was strapping the new instrument in place he responded to shouts from the foot of the stage with "You want to hear it again?" The acoustic guitar came back and Paul and the band delivered another rousing verse or so. Maybe he's done that before. Maybe he does it a lot. But it seemed spontaneous and we all loved it.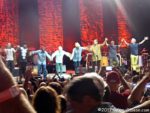 There were two encores. Paul had carried a baseball cap on stage and it hung on his mic stand through most of the show. I believe he carried it off with him at the end of the first set but might be wrong. I know he did after the first encore because it was on his head when he and the band came out for the second. He held it up and explained that the lower case 'e' on the hat represents the Half Earth Project which will receive all profits from the current tour. I am only slightly familiar with the project, which proposes to dedicate half the surface of the Earth to nature, but do not doubt its worthiness. In my mind, both the project and Paul's contribution connect with "How much is enough?" One species doesn't need or benefit from manipulating every inch of the earth. One rock star doesn't need or benefit in any real way from grabbing every dollar on earth. Paul and many musicians continue to perform long after banking enough money for several lifetimes because that's simply what they do and folks like me and the road crews appreciate it. Wouldn't it be a great thing if more people accepted that there really is such a thing as enough. The band did three songs in the first encore and four in the second. Then Paul brought them all to the front of the stage for a bow. Many shook hands with fans before walking off . Paul remained on stage alone.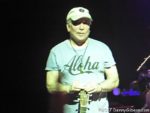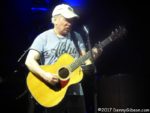 He picked up a guitar and stepped to the mic. "Anger is addicting," he said, "and we are becoming a nation of addicts. Look around and see who the pushers are." That's what I remember and what I recorded on my phone as I left my seat at concert's end. Another review has it slightly different and there are reports of other variations at other concerts. He then ended the show with "The Sounds of Silence" which I'd been waiting to hear live since 1965. When it was over he moved a few feet to his left and stood the guitar in front of him. He seemed to study the crowd as he allowed the crowd to study him. After a few moments he moved to the other side of the mic and did the same thing. Aloha.