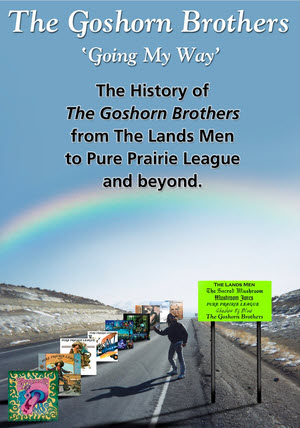 I am even less qualified to review DVDs than I am to review CDs and books. That won't stop me of course. I just thought you should know. Going My Way is Chuck Land's take on the story of Larry and Tim Goshorn's musical adventures. Chuck Land is the guy behind Landman Productions, The Chuck Land Show, and, as often as possible, a Hammond B3. Larry & Tim are the guitar playing siblings who have powered a few decades of music in Cincinnati and carried a lot of Cincinnati music a long long way from home. Those album covers on the DVD jacket represent music from the 1960's Sacred Mushroom, through Pure Prairie League and the Goshorn Brothers Band, to their most recent duo recording Acoustic. In case you didn't notice, those album covers are posed along the center line of a two lane highway.
This is a Cincinnati story. The brothers have been back in Cincinnati for many years now and so has Chuck. He and the Goshorns are close friends these days but much of the brothers' story is outside of Chuck's personal experience. Those bits he covers through period photos and interviews with people who were there. Recent parts of the story include Landman Production performance footage.
The documentary opens with Sacred Mushroom bassist Joe Stewart praising his former bandmate. Joe appears in the video several more times and talks about making music with Larry long before the Mushroom even existed as well as filling in some of the Sacred Mushroom story. Other persons interviewed include concert promoter and former Cincinnati Vice-Mayor Jim Tarbell and retired radio personality Gary Burbank. Tim and Larry are recorded talking about themselves, each other, and individuals they've performed with over the years. Other musicians and fans are also interviewed but, somewhat curiously, Rick "Bam" Powell is the only Goshorn Brothers Band member, other than the brothers, to talk to the camera. More understandable is the fact that no other members of Pure Prairie League are interviewed, either.
The DVD is packaged with a CD containing eight songs from throughout the Goshorns' careers. The Pure Prairie League years are well represented with songs penned by Tim or Larry and first released by PPL but presented here in post-PPL versions. It's a nice sampler.
No matter where you live, it's all but certain that you have heard some Goshorn music. If you've lived around Cincinnati, there is also a darned good chance that you have seen one or both Goshorns perform at a club, concert, or festival. Going My Way offers a look on the other side of the speakers and serves up a lot of history on this pair of talented and significant Cincinnati music makers. Find it here.