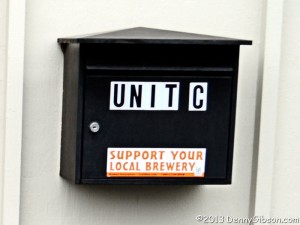 Cincinnati has breweries. It used to have a lot of breweries and they used to be bigger. Maybe the glory days when more than twenty breweries operated in the Queen City won't be returning but the count is definitely increasing. Most of those 20+ breweries simply didn't recover from the Eighteenth Amendment. A few — Hudepohl, Shoenling, Wiedemann, Burger — did and were going strong when I came to town in 1965. But one by one they closed and all were gone by the end of the century. An exception of sorts is the former Shoenling Brewery now owned by Boston Brewing and used to produce Samuel Adams and other brands for a company headquartered nearly 800 miles away.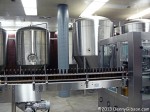 In 2004, Greg Hardman started putting his money and his considerable energy where his heart is. Using contract brewing, he brought brands like Christian Moerlein, Hudepohl, and Shoenling back to Cincinnati shelves and taps. A major goal was reached in February of 2012 with the opening of the Moerlein Lager House on the banks of the Ohio River right next to the Roebling Suspension Bridge. An even bigger goal is about to be reached when beer starts rolling out of the Moerlein Brewery in Cincinnati's Over The Rhine. The building on Moore Street began life as part of Kaufmann Brewing Company, spent many years as a Husman's Snack Foods potato chip plant, and more recently served as the Great Hall for the annual Bockfest. The photo at left was taken during an open house in late November as things eased ever closer to an actual opening. As I stood in the full and noisy hall, I planned this post — sort of.
My actual thoughts on that day were of a brewery that had been operating in the Cincinnati area for several years but which I'd never visited. Visiting that brewery became a priority. There were issues, however. Tours are offered but only on Saturdays. My December Saturdays were already filled so it wasn't until the new year started that I could get serious. By then my thought had expanded to include other breweries in the area. In fact, the brewery that had triggered the plan would actually be the last one I would visit during three days of peace and brewski.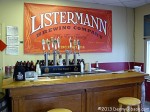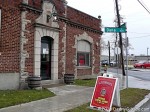 I started on Thursday with a stop at Triple Digit on Dana Avenue. The brewery is part of Listermann Manufacturing who has been supplying home brewers since 1991. They have been brewing themselves for several years and I've enjoyed some of their product in local restaurants. The taproom is rather new, though. Until last spring, an Ohio taproom required its own licence in addition to the brewery license. Removal of that requirement was a real boon to smaller operations like Triple Digit. I tasted a few brews and walked out with a couple of bottles of Chickow! Very good stuff.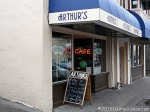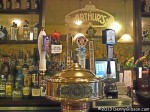 Lunch at Arthur's was next. That it was fairly close and more or less on my path were good reasons but there were two better ones. One is that on October 23, Arthur's began "Proudly serving only Local Draft Beer!!!". Most of the nationally distributed stuff is still available in bottles as is a wider range of local brews but each of the six permanent taps dispenses only beverages brewed in the Cincinnati area. A very cool and classy move in my opinion. The long standing Tap Tuesday's could be construed as a technical violation of the "local only" rule but it is certainly a reasonable one. There is a single standalone tap that gets a keg from some smaller brewery every Tuesday. As it has been in the past, this will sometimes be a local product and sometimes not. This week it had been from a small brewery in Portland, Oregon. Hard to fault them for that. The second "better" reason was to try the beer coming from the tall diamond shaped tap. It's Fork in the Road, an India Amber Ale from Blank Slate Brewing Company. That would be my next stop but I knew there was no tasting room or much chance of seeing anymore of the brewery than the mailbox. That's it at the top of the article. More good beer. If you find Fork in the Road on tap, take it.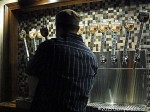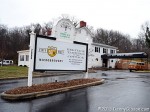 Thursday's last stop was at the Fifty West Brewing Company on Wooster Pike, a.k.a. US Highway 50. Anyone who looked for the six taps in the picture from Arthur's may have come up one short because the Fifty West handle is sideways and hard to see. The company is pretty new. The taproom is just seven weeks old but going gangbusters. I started with a Brewmaster's Choice flight then, on a neighbor's recommendation, did a pint of something else. My favorite was the Horse & Buggy Scotch Ale but, at 8.3% ABV, it wasn't something I could just guzzle.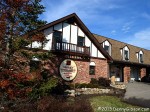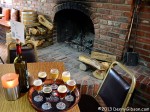 On Friday afternoon I drove up to Valley Vineyards near Morrow, Ohio. They've been making some well respected wine here for over forty years. I'm not much of a wine drinker but did attend some of their earliest wine festivals when I lived near by. I've been wanting to revisit the place ever since they added the Cellar Dweller nanobrewery a little over a year ago.  The one word description "refined" came to mind as I worked through the seven member flight and the word seems fitting for an operation with the experience behind it that this one has. Although the offerings fill the full range from an American Light to an Irish Stout each is rather middle-of-the-road for the type. That's not at all a bad thing. I'm sure Valley's goal was to provide a range of high quality and pleasant brews without jarring palettes. Well done. Perhaps it is also fitting that my favorite was the middle of the lineup Dead Dweller English Ale.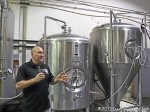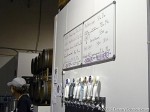 Friday's second and last brewery was Rivertown in Lockland, Ohio. The taproom is open only on Thursday, Friday, and Saturday with tours available Friday and Saturday. They charge five bucks for the tour but it includes a beer and a souvenir glass. Since most beers are $5, they're really giving you a glass to take the tour. Rivertown Brewery is only a couple of years old but quickly overcame some early quality problems to become one of the area's more successful breweries. One of the beers I've tried and liked in the past is Roebling Porter. At the brewery I got to try it the "right way" with nitrogen delivery and liked it even more.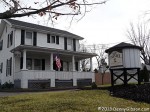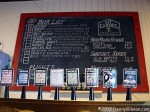 OK. Here it is. The place that got me thinking about visiting local breweries last November. Mt Carmel Brewing  has been producing beer in this 1924 farm house since 2005. They have been offering tours on a regular basis since that change in Ohio law allowed them to open a taproom last spring. It's not a big place so a tour doesn't take long but it does provide a good feel for how the place operates. Improvements and expansions have occurred as the business grew and more are planned. Production is the top priority but things like more parking for taproom patrons are also in the works. As Mt Carmel brews have appeared on an increasing number of area shelves and taps, their Amber Ale has become a favorite of mine.
Visiting these five taprooms made it clear to me that brewing is pretty healthy in Cincinnati. Although my timing was accidental, it was also extremely appropriate. Next Saturday, as a prelude to Cincinnati Beer Week, six sold out "Taproom Trolleys" will visit most of the same places. The buses will not go to the remote Valley Vineyards but will stop at the Moerlein Lager House and Rockbottom Brewery. I beat the crowd but just barely.