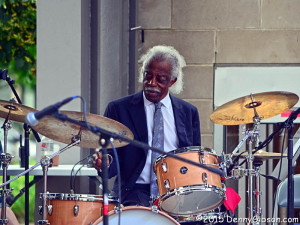 Remember The Twist? How about Chubby Checker? Hank Ballard? Just about everybody will recognize the first two and two out of three ain't bad — unless you're from Cincinnati. Cincinnatians should know it was Hank Ballard and the Midnighters who first recorded the song that made Chubby Checker famous. They should know because that version was released by Cincinnati's King Records. The Twist was a regional hit for the Midnighters and it got them booked on Dick Clark's American Bandstand. They didn't make it and Clark got a fellow named Ernest Evans to lip-synch to Ballard's recording then recorded and released an identical version with Evans using the name Chubby Checker. Why did Ballard miss his Bandstand session? Various stories have been told but the man in the photo above says Hank was in Atlanta with a lady. He should know. He's Phillip Paul who played drums on The Twist and 400 or so other King recordings.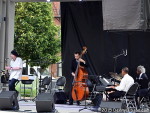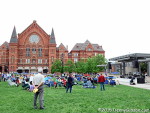 Not all of those were hits but many were. Several, in fact were major milestones on the route of rock and roll. Paul drummed on Little Willie John's Fever, Tiny Bradshaw's Train Kept a Rollin', Wynonie Harris' Good Rockin' Tonight and Freddie King's Hide Away. Today those song titles are more familiar than the artists' names because they have all been covered over and over but, as he was with The Twist, Phillip Paul was there at the beginning; There when the originals were recorded. And he's still "there" today, playing every Friday and Saturday at The Cricket in downtown Cincinnati. He was there Sunday, May 31, in Washington Park providing some "good rockin'" and good stories as the opening act for a reading of a new play about King Records.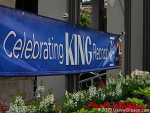 That play, Cincinnati King by KJ Sanchez, tells the story of King Records largely in the words of people, including Paul, who were part of it. Many of the words are from the nearly fifty interviews conducted by Sanchez. Others come from recordings and printed material. The story of King Records is really the story of Syd Nathan. Nathan owned King and ruled it with an iron fist that usually held a cigar when it — the cigar not the fist — wasn't in his mouth. He did things his own way and, more often than not, he did them himself. He started with a record store. When labels started gouging him for records, he started his own. When his "style" created problems with recording studios, he built his own. When pressing plants sent inferior product, he built his own. Eventually King did it all including designing and printing its own packaging.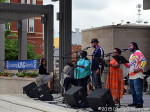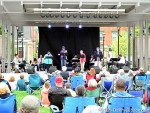 Partly because of Cincinnati's half-north half-south location, Nathan's store did a good business in "hillbilly" and "race" records and that's what his record company initially made. Those names have been replaced by country, bluegrass, blues, rhythm & blues, and a few other genres. King's stable included Grandpa Jones, the Stanley Brothers, Cowboy Copas, Bill Doggett, the Delmore Brothers, Moon Mullican, Charles Brown, and on and on. Of course, the biggest star ever at King was James Brown. Nathan's independent and demanding ways irritated just about everybody at some point and "The Godfather of Soul" was just as independent and just as demanding. The two were like oil and water but they made each other a lot of money and even managed to occasionally look like great friends at an award ceremony or some such.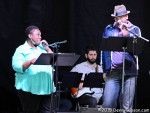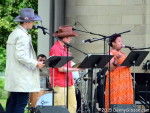 Just as the musicians that King recorded were a mix of black and white, so, too, were the other employees. In time, King's employment application included a question about whether working with a person of another race would be a problem. It's said that Nathan would sometimes hire someone who answered "yes" then make a point of assuring that the new employee was put in the situation they thought would be a problem. Syd Nathan didn't solve all the race issues in the world but maybe he did his share.
This concert and reading was part of the OTR Performs Series and a Cincinnati Fringe Festival Special Event
Phillip Paul turns 90 on August 11. The city of Cincinnati has proclaimed the preceding Saturday "Phillip Paul Day". Look back at this article's first picture. To me, that sure looks like a man who is enjoying himself.