I long ago reserved a seat on a bus tour of Cincinnati incline sites and had in mind that the Saturday outing would be the subject of this Sunday's blog entry. But not only did Thursday's visit to the Pumpkin Show result in an unscheduled post, it led to me visiting a couple of exhibits that I think worth mentioning. So, before getting to today's feature, I'm presenting a couple of short subjects.
---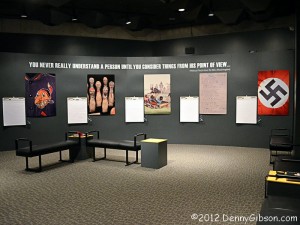 Short subject one is Controversy 2. Rather than driving home from Circleville in the dark on Thursday, I drove just a few miles toward Columbus and grabbed a motel room then headed on to Ohio's capital in the morning. My first stop was at the Ohio History Center where the second exhibit of controversial items in the Ohio Historical Society's collections is in progress. The photo at the right is of an area at the end of the exhibit. Large pads of paper hang next to photos of the five items on display. Presumably the pads were there for comments but they were entirely blank when I saw them. Around the corner, several comments made on smaller cards were displayed. Most were positive regarding the exhibit and thoughtful regarding the items in it but a few were unhappy that the objects have been allowed into the light.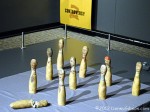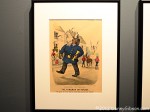 The first Controversy exhibit, which I missed, included a hooded KKK costume and a nineteenth century condom. Controversy 2 contains an original Cleveland Indians Chief Wahoo jacket from 1946, children's toys depicting ethnic stereotypes, degrading racial caricatures, a poem written in dialect, and a Nazi flag. The cloth bowling pins were made sometime before 1914. An adjacent description is here. The prints were published by none other than Currier and Ives between 1882 and 1893. A dozen or so are displayed. Their description is here. The line at the bottom of the print shown here is "De gals all mire me so much dey makes me blush."
---
Not surprisingly, no photos were allowed at my next stop, an exhibit of Annie Leibovitz photographs at the Wexner Center. I'm not at all bothered by that since I am not all that fond of taking pictures of pictures and, in this case in particular, doing anything near justice to the subject was clearly out of the question. The exhibit includes all of Master Set and much of Pilgrimage. Master Set consists of 156 images hand picked by Leibovitz to represent four decades of work. Most are from professional assignments but there are some family shots in there, too. Pilgrimage is made up of photos that Annie took for herself. There are no people in these photos but every object and location is firmly associated with an historical figure.
The walls are filled with remarkable images but I'm going to comment on just two. My favorite in Master Set is a 2001 picture of Pete Seeger standing at the edge of the Hudson River wearing hip-high waders and a banjo. It can be found online with a search for Leibovitz and Seeger. I want to grow up to be as happy as Pete Seeger looks in that photo. In Pilgrimage, I was drawn to a picture of Annie Oakley's boots taken at the museum in my home county. I'll certainly look at those boots, that I can now connect with two sharpshooting Annies, a bit differently on my next visit.
---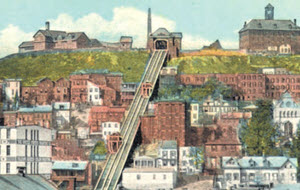 The Cincinnati Museum Center conducts a number of Heritage Tours each year including several that are repeated every year. One of those is Inclines and Overlooks. I've signed up for this in the past but didn't get to attend because of a schedule overload. This year I made it as the feature event of a busy weekend. Unfortunately, a lot of clouds were also able to attend this year and there was even a little rain but that did little to dampen spirits on the sold out tour.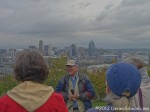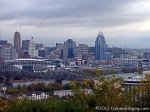 Our first stop was in Kentucky's DeVou Park which provides a great view of Cincinnati. From here our guides could point out where the city's five inclines were and explain why they were needed. There were four guides on the tour; All excellent and all of who's names I've forgotten.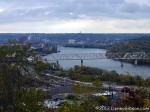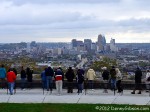 Then it was back to Ohio where we would eventually visit all five incline sites. The first was the Price Hill Incline on the west side of the city. This was the second incline built in Cincinnati and the next to last to die. Constructed in 1874, it operated until 1943. A turn to the right yields a nice view of the Ohio River and the Southern Railroad Bridge.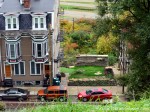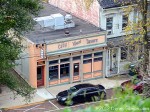 I make multiple goofs in preparing every blog post and journal entry. Most I can simply ignore but some, like forgetting all the guides' names and not getting a skyline shot from the Mount Adams overlook are hard to conceal. Instead, I've got a shot of some of the piers from Cincinnati's last incline and an overhead view of one of my favorite taverns. I briefly thought of trying to cover my oversight by claiming that I intentionally omitted a view of the city because I wanted you to visit the City View Tavern so you could experience the view for yourself. I quickly realized that it wouldn't fly as an excuse but it's still a great suggestion. The Mount Adams Incline opened in 1876 with two enclosed passenger cars. Three years later the incline was converted to open platforms which would carry horse cars, and eventually electric street cars, to and from down town. The Mount Adams Incline is shown in the picture at the top of this section. It closed in 1948.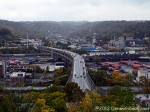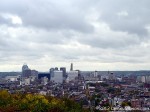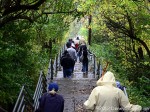 There was a little rain at the Mount Adams stop and that may have contributed to my failing to get a proper overlook view. It definitely contributed to my failure to get one from the top of the Mount Auburn Incline route. It was also a deterrent to walking the stairs that essentially trace the route but that was outweighed by the fact that the bus would meet all walkers at the bottom. A chance to de-climb 355 steps without also climbing them doesn't come along every day. The overlook views are from the top of the Bellvue Incline and near the midpoint of the Fairview Incline. Operating between 1871 and 1898, The Mount Auburn Incline was the first and shortest lived of the Cincinnati inclines. It was also the only one with fatalities. In 1889 a car plunged down the track killing six of eight passengers. The Bellvue Incline operated between 1876 and 1926; The Fairview Incline between 1892 and 1923.
I learned quite a few things on this tour including the fact that, while San Francisco was first and last with cable cars, Cincinnati had them, too. Between 1873 and the end of the century, as many as three cable car lines operated here. The power house for one of them still stands and is used for office space. Another surprise was getting a copy of Cincinnati Streetcars No. 2 The Inclines at the end of the tour. This was a gift from the Ohio Book Store and a reminder that it has been entirely too long since I've been inside that wonderful place.
This was an extremely well done tour. As I write this, I'm feeling guilty that I didn't praise it more on the evaluation form. I'm also thinking that I just might try to sign up again next year and hope for better weather.