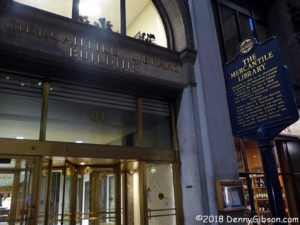 Despite natural first impressions, the title is one of of my most accurate and straightforward. Bibliophilia is the name of a Cincinnati Museum Center CurioCity program that was held at the Mercantile Library of Cincinnati on Thursday. The Museum Center (a.k.a., Union Terminal) is currently undergoing a major renovation and numerous events that would normally be held there are being spread around the city. The Mercantile Library is one of the city's oldest institutions and it is with considerable chagrin that I admit to this being my first visit.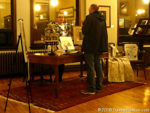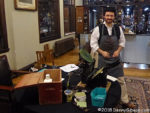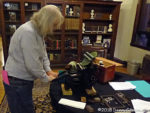 Bibliophilia exhibits included Sarah Pearce's artistic creations and a letter press from the Museum Center. Pearce made that dress out of pages from a book of patterns following one of those patterns. The letter press was fully operational and even I managed to produce something legible with it. There was also a station with manual typewriters that attendees could use to write Tweet sized (140 character) stories and a place where they could bind their stories into pamphlets. A rather major activity was a scavenger hunt that had people prowling all through the library to answer a set of questions.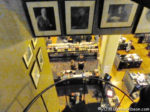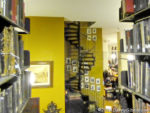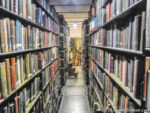 I didn't take part in the scavenger hunt but prowled nonetheless. The Young Men's Mercantile Library Association was founded in 1835. It lost a couple of homes to fire and moved around a bit during its first seven decades but has occupied the purpose built upper floors of 414 Walnut Street since 1904. It's here under a $10,000 10,000 year lease that guarantees space even if the building is replaced.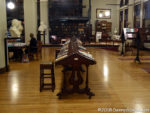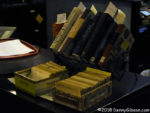 The place looks exactly as a library should. In fact, it looks a lot like what it did in 1904 and some of the furnishings and many of the books predate that considerably. But there have been changes over the years. You can now be neither young nor male and still join and, even though "mercantile" is still part of the name, a connection with commerce is no longer required.
The library was recently the subject of a great Cincinnati Refined article accompanied by some marvelous photos. Check it out here.
---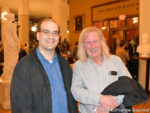 A surprise bonus was running into a couple of travelers I hadn't seen in quite awhile. We've sometimes joked online about probably meeting each other beside a narrow road in some semi-distant state. Although the Rowlands (Chris & Katherine) and I both live near Cincinnati, a crossing of paths on two-lane roads seemed more likely than the meeting in a library in the heart of downtown that happened Thursday. I tried to get a candid shot of the two of them but my attempts turned out to be the blurriest of the blurry so I asked to use a picture that Katherine took of Chris & I. Catch up on their travels and learn a lot about Reubens here.