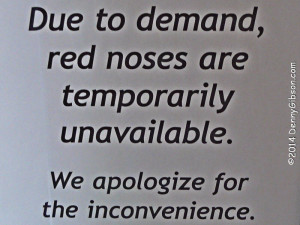 I visited a few museums this week. One reason was that I realized some temporary exhibits I wanted to see would be ending soon but there was also a lot of happenstance involved. For those of us spared desperate last minute shopping, the week before Christmas seems to be rife with days needing to be filled with something and a little catching up fits nicely. This post will wander a bit but will eventually get around to explaining the nose shortage revealed in the photo above.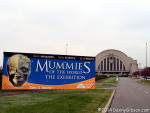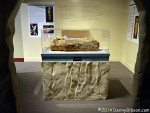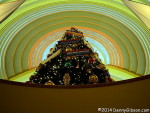 Early in the week, I attended the Mummies of the World exhibition at Cincinnati Museum Center. No photos were permitted in the traveling display so I've included a picture of the museum's resident mummy, Umi. Mummies of the World will be in Cincinnati through April 26. The third photo is of the museum's giant Christmas tree backed by Union Terminal's brightly painted half-dome. For those who feel a little disoriented by that shot, a more traditional view is here.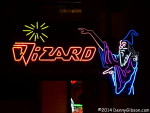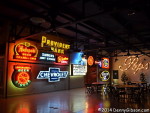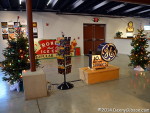 On Friday, I went out for breakfast then decided it would be a good time for an overdue visit to the American Sign Museum. There is so much here that it's often near impossible for me to know if a sign is truly a recent addition or simply something I've not noticed before. As I gawked my way around, founder Tod Swormstedt made a point of saying hello and verified that a couple of signs in the local area were indeed newly placed. I clearly remember driving and walking by the Wizard sign many times in the wild but do not recall ever being inside the Clifton area record shop. Tod also gave me a little behind the scenes tour that included a recently acquired 1944 sign truck that will be used in parades and other promotions.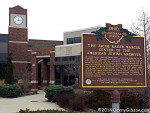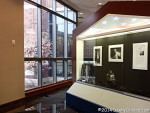 This year's Fotofocus was in October and, with the exception of Treasures in Black & White at the museum center, I pretty much missed it. However, some related exhibits are still in place. One of them isn't too far from the Sign Museum so I figured this was a good time to visit it as well. Good thing, too. It had just two more days to run. Documenting Cincinnati's Neighborhoods at Hebrew Union College contains examples of the work of three local photographers from the middle of the 1900s.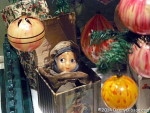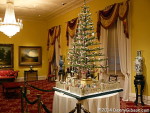 Maybe realizing how close I came to missing the Neighborhoods exhibit scared me because I next headed straight to the Taft Museum where two photo exhibits were in progress. I didn't really need to hurry, I suppose, since both Black, White, and Iconic: Photographs from Local Collections and Paris Night & Day: Masterworks of Photography from Atget to Man Ray continue through January 11. No pictures were allowed in either exhibit but amateur photos of photo masterpieces aren't all that appealing anyway. On the other hand, what I believe is a fairly recent policy change, not only allows but encourages non-flash photography in the other areas of the museum. The two photos here are of displays in the museum's annual Antique Christmas exhibit.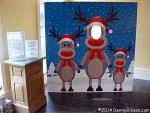 That opening photo was also taken at the Taft. A trio of reindeer stands in the lobby with an oval cutout that allows anyone to be photographed as one of the group. Apparently red noses were once available so that adding a Rudolph like touch was an option. That option, it seems, was quite a bit more popular than anticipated which led to it currently being unavailable. BYON.