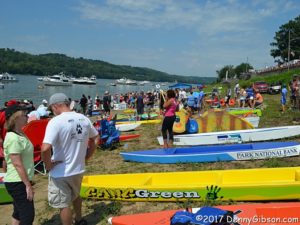 New Richmond did it again. On Saturday, folks from near and far were happily "Creating corrugated chaos on the Ohio" at the twenty-fifth Cardboard Boat Regatta. There weren't quite as many entries as last year but I think last year's field of 60+ was a record breaker. About five minutes of light rain fell an hour or so ahead of the start but it instantly forgotten and the skies stayed clear for all of the races. That does not mean that competitors stayed dry.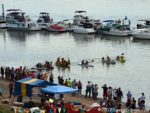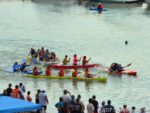 There were twelve heats for the various classes plus the free-for-all "Cardboard Cup" race. Not all of the races started with perfectly formed lines though many did. But cardboard craft clusters were just as likely to form from those perfect lines as from the less perfect ones.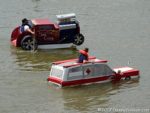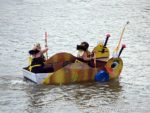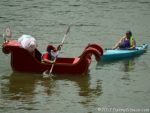 Some of the racing was really serious but many, in fact most, of the competition seemed to involve more creativity than speed.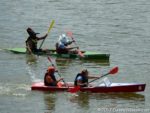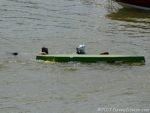 Construction materials — cardboard, tape, and paint only — remain the same but construction skills have improved considerably and there aren't a lot of "dissolving" boats anymore. Crews can still end up in the water, however, and that's when not losing your head is most important.
Posts on previous Cardboard Boat Regattas are here (2010), here (2011), here (2013), here (2015), and here (2016).