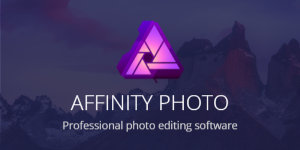 Affinity Photo is a Serif product. Serif's PhotoPlus had been my photo editor of choice since 2001 when I started using Version 4.0. More than a dozen releases later, at Version 6X, I was still using it although I sensed the end of our relationship was near. In the My Apps PhotoPlus post I wrote of feeling like a Beta Max user in a VHS world. (Younger readers may have to Google that.) Most people I knew used PhotoShop. Not one of them used PhotoPlus. But what really got me to thinking about moving on was that PhotoPlus seemed to have reached an odd sort of dead-end. I had no wish list of features, so it didn't bother me that new releases added very few. What did bother me was the tweaking for tweaking's sake of existing features. Someone must have thought the tweaks were good but I found some actually detrimental to the way I worked. I wasn't about to spend big bucks on Adobe's full featured PhotoShop Creative Suite but their Elements product was only a few dollars more than PhotoPlus and seemed to have everything I needed and most of what I merely wanted. I started thinking it was about time to jump ship.
An opportunity to do just that came along in 2016 with the purchase of a new computer. Switching computers means transferring existing software or acquiring new, and I did a little of both. For my photo editing needs, I planned to acquire PhotoShop Elements rather than transferring PhotoPlus 6X but Serif came up with some news and an offer that resulted in me doing neither. The news also offered a little insight into the "odd sort of dead-end" behavior I'd noted with PhotoPlus. Affinity was an entirely new-from-the-ground-up product. It was initially developed for Apple's macOS and had been shipping for that platform for a year or more. The news was that it was now available for MS Windows. Apparently PhotoPlus for Windows really had been a dead ended product for some time.
The offer was much like those I'd seen with each new PhotoPlus release. Current owners could get the new software at a heavily discounted price. I'd long before decided that I wouldn't spend any more money on Serif's PhotoPlus and I didn't. Instead, I spent money on Serif's Affinity.
I have no regrets. The Apple version of Affinity had some very positive reviews and had even received an award or two. It was at least as powerful as PhotoPlus and both were more powerful than I needed. From the start Affinity Photo for Windows was fully featured with few problems. I've a hunch that the Apple version being around for a while had something to do with that. In addition, a nice collection of video tutorials was available. Those came in really handy in getting up to speed on the new product.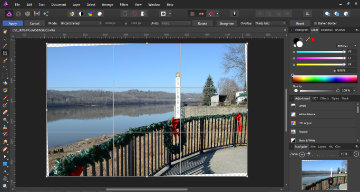 For me, up to speed isn't all that fast. I'm basically a resize, rotate, and crop sort of guy. I was nearly at speed once those were mastered. I do, on occasion, dabble with tone a bit and do a little touch-up work. About as fancy as I ever get is the rare collage or the slightly less rare HDR. Accomplishing these with Affinity is quite different than with PhotoPlus but I eventually figured it out. I'm a long way from being a master of the software but I manage to do what I need.
Is Affinity better than PhotoPlus? Yes, if for no other reason than it gets a nice clean start without the baggage and limits of a product that has been tweaked and twisted for many years. Is it better than PhotoShop Elements? Probably, but I'm no expert on either so can't say for sure or even explain how it might be. Is it better than the full PhotoShop? I'm guessing not although some people who demand a lot more from their photo editor than I do consider it a worthy competitor. Even if that's a stretch, and I'm not saying it is, I'm thinking that Affinity is worth a look from anyone not tied to PhotoShop by corporate decree or something similar. Maybe the truly discerning can see differences in output quality or maybe there's something missing that real photographers depend on. I don't know. I do know that it does what I need for about half the price of PhotoShop Elements or a little bit less than two monthly payments on a PhotoShop Creative Cloud annual subscription.