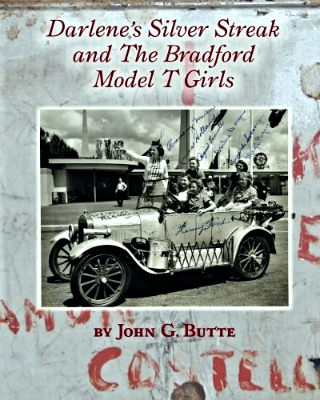 I first heard of Darlene Dorgan and her friends from a presentation on early female travelers at the Lincoln Highway Association in June. Then they were part of a similar presentation at a Route 66 conference in October. This book may have been mentioned in either or both of those presentations but, if so, it didn't register. What finally got me interested in Darlene's Silver Streak and The Bradford Model T Girls was when a blog I follow, Curbside Classics, ran a three part story in November that was akin to a condensed version of the book. Those posts also made me aware of a website, Gypsy Coeds, created by the book's author and the fact that the car was currently on loan to the Model T Museum in nearby Richmond, Indiana. I headed over, checked out the car, and bought the book.
By then, I knew the basics of the story. In a deal that had his daughter give up her dreams of college, Bill Dorgan gave her a car and dreams of college turned into dreams of travel. Over the next several years, Bill's daughter Darlene used that car to carry her and her friends to the USA's east and west coasts, its northern and southern borders, and even into Canada. That would not seem particularly unusual if it happened today and only slightly more so if it happened a few decades ago. But it happened in the 1930s when groups of young women typically didn't undertake anything of the sort without males at their side.
The car was a 1926 Ford Model T that was painted silver and eventually given the name "Silver Streak". Between 1934 and 1942, Darlene made eight major outings in the car along with four or five friends. John Butte's mother was on one of those trips and his aunt on another. Having read that Butte had done considerable research, I expected the book to include details of those trips and it does. For each of the journeys Butte identifies the participants, the dates, and the general route. Among his sources are newspaper articles, conversations with Gypsy Coed descendants, some Gypsy Coed diaries, and even conversations with a couple of the Coeds themselves. He documents his findings with reproductions of articles and various communications, excerpts from diaries and interviews, and plenty of photographs. Even though, as I said, I expected details of that sort to be there, I was a little surprised at the amount of detail presented.
The "Bradford", in the title is Bradford, Illinois. It's the small town about thirty miles north of Peoria that Darlene called home. Butte begins his book by talking about the town and the Dorgan family's role there. To some extent it's a familiar tale of small town America and the changes brought on by the automobile and other developments, but Butte mixes general observations about the period with details of the Dorgans and Bradford to paint a solid picture of the world from which the young women launched their adventures.
Those adventures — and adventure seems exactly the right word — included seeing two World Fairs, the Dionne Quintuplets, and Henry Ford. Of those, the Quints came first, on the third big trip in 1937. After driving to Callander, Canada, the girls weren't about to settle for a few orchestrated peeks at the children. They also managed to meet Dr. Dafoe who had delivered the quintuplets. That was not a common occurrence at all. The next year, they spontaneously interrupted a Wisconsin camping trip to drive to Detroit to wish Henry Ford a happy birthday. They managed to meet him, too.
The meeting with Ford proved quite valuable to the girls, particularly on their next two trips. In 1939 they attended the World Fair in New York and in 1940 drove to the one in San Francisco. On both trips, the girls and the car benefited greatly from special attention from the Ford Motor Company.
There are two parts to Darlene's Silver Streak. The first, called "Creating the Legacy", consists of what I've described so far. Part two, "Continuing the Legacy", is John Butte's own story. Following the passing of his parents, he and his siblings reminisced about the stories their mother told of her experience as a Gypsy Coed in 1939. One thing led to another and John ended up finding and buying the Silver Streak in 2012. At times it seems that too much of this second part involves things that have nothing to do with the car but it does provide a picture of someone who is not a "car guy" becoming the owner and caretaker of a unique piece of automotive history. He hasn't suddenly turned into what most think of as a "car guy" but he does seem to enjoy his stewardship role and clearly takes it seriously. Part of being a good steward can be learning and sharing everything you can about your charge. John Butte earns high marks in that department with Darlene's Silver Streak.
Darlene's Silver Streak and The Bradford Model T Girls, John G. Butte, John Butte Publishing (August 25, 2015), 8 x 10 inches, 304 pages, ISBN 978-0692491201

---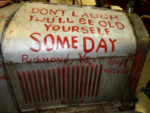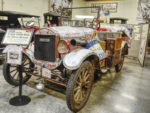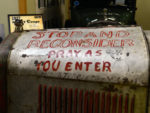 I mentioned in the review that I saw the Silver Streak at the Model T Museum in Richmond, Indiana. Here are some pictures from that visit. The car is on loan to the museum until August, 2018.