It would be nearly impossible to spend any time at all around Cincinnati and not notice that its mural population has been increasing. I've noticed but I didn't understand. I didn't understand that ArtWorks Cincinnati, a name I sometimes noticed being associated with a new mural, wasn't just a company hired to paint some pictures on some walls. I started to understand that aspect of Cincinnati's murals just a little when ads for Transforming Cincinnati started to appear that included pieces of the back story. At that point I thought I understood the book's title but, as I learned when I attended the big premier nearly two weeks ago, that was probably what I understood the least. The official launch took place on November 18 at a "Book Premier & Artist Signing" hosted by Joseph-Beth Booksellers. I attended with the idea of getting a copy with a few autographs in it. I got so much more.
Part of the back story I was starting to hear concerned Cincinnati Mayor Mark Mallory challenging ArtWorks to create murals for each of the city's 52 neighborhoods. That was in 2007 and ArtWorks was already well established. Their previous projects included 2000's Big Pig Gig where 425 full sized fiberglass pigs were decorated and displayed around Cincinnati. For those who don't know, Cincinnati was once the largest pork-producing city in the world and was known as "Porkopolis". In the decade since they accepted the mayor's challenge, ArtWorks has completed 147 murals in 37 neighborhoods.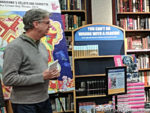 That is essentially what I knew when I arrived at the launch. John Fox, the book's editor, served as MC for a panel of artists who answered his questions and told some stories. Thinking I understood the book's title, I expected to hear about how a mural had transformed an ugly building or brought some brightness to a dreary corner, and how all those murals worked together to transform the city. I did hear a little of that but I also heard about how the projects had transformed people. It wasn't long before I grasped the connection between ArtWorks and "creative job-training". The fact that I don't live in Cincinnati proper is the only excuse I have for not seeing this earlier. ArtWorks doesn't just go into a neighborhood and paint a mural they think is cool. They work with the neighborhoods to design a mural that is appropriate and they do it — and create the mural itself — with the help of young apprentices. When possible, those apprentices come from the mural's neighborhood. As ArtWorks founder Tamara Harekavy explains in the book's introduction "These usually are the teens' first paid jobs, certainly the first time they've been paid to make art." That is creative job-training in every sense of the word.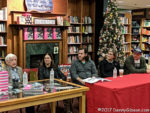 As I listened, it became apparent that it wasn't just the teen apprentices who were transformed. Designers, project managers, and teaching artists were all affected by the projects. Even famed nature artist John Ruthven, who helped reproduce his painting "Martha, The Last Passenger Pigeon" on a six-story building, talked glowingly of working with the teens and seeing his work on such a giant scale. The mural was painted in 2013 when he was 89. That's Ruthven on the left side of the photo. Tamara Harekavy is on his left, then mural artists Jonathan Queen and Jenny Ustick, and book designer Christopher A Ritter.
So what about the book? All I've talked about so far is my buying experience. Well, it's a fairly large format (9 x 12) photo book about murals. Therefore the bulk of its pages are filled with pictures of murals and more pictures of murals. These are typically accompanied with the names of everyone involved and that includes the Youth Apprentices. But there are also descriptions (and pictures) of the process, extra information on some murals, and a couple of maps showing mural locations. Many of the mural pictures are, as might be expected, an accurate as possible recording of the actual mural and nothing else. Others show a considerable chunk of the mural's surroundings. This is something the book's creators made extra effort to do since the murals are intended to fit into and enhance their locations. There are also several fold-outs that provide wonderful four-page views of selected murals including the aforementioned "Martha, The Last Passenger Pigeon".
Transforming Cincinnati, ArtWorks Cincinnati, Orange Frazer Press (November 2017), 9 x 12 inches, 160 pages, ISBN 978-1939710-765
Available from ArtWorks Cincinnati, Orange Frazer Press, and in store at Joseph-Beth Booksellers Cincinnati.