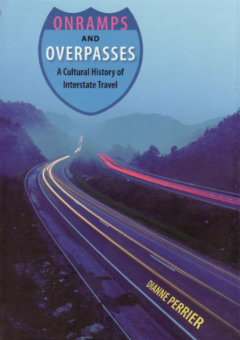 You can't judge a book by looking at the cover. Or, sometimes, by reading the title. That was the case for me with Onramps and Overpasses and the impression I got from the title and cover pretty much explains why it stayed on the unread pile so long that I don't remember where it came from or why I have it. The cover is a nicely done long exposure photo of cars on a divided four-lane highway passing through what looks to be a rather scenic area. The title reinforces the image of high-speed limited-access roadways. The subtitle, "A Cultural History of Interstate Travel" does a better job of describing what's inside but the preconception created by the cover and title led me to overlook the word "cultural" and misinterpret the word "interstate". In my opinion, Perrier goofed on the cover and even more so on the title. Those are, however, virtually the only mistakes she makes here.
A concept central to any view of American transportation history is that new roads follow old paths. As we all know, expressways superseded two-lanes which paralleled railroads which ran beside pioneer trails which followed Native American paths which mimicked animal traces. The new routes were rarely exact duplicates of what came before but they were similar. Hunting parties might take advantage of a shortcut too restrictive to be used by a herd of bison. Steam engines were simply unable to climb slopes that a man on horseback might. Paths might not precisely follow what came before but they passed through the same corridor. Perrier's book is organized around the current set of interstate highways but her story is of what came before and why the corridors those interstates follow exist and are important.
She includes anecdotes from and descriptions of various periods in the development of each corridor. This is the "cultural" flavoring of history that I'd missed in the sub-title. That these corridors were and are the paths of travel between states is the intended meaning of the word "interstate" that I initially took to mean the multi-lane expressways we commonly identify by that word. Once I picked it up and discovered how off my expectations were, I didn't want to put it down. As I was enlightened by plenty of details, I was entertained by stories and sidebars. I'm just sorry it took me so long to look beyond those four lanes of car lights.
You can't judge a sister by looking at her brother.
You can't judge a book by looking at the cover.

— Willie Dixon, 1962
Onramps and Overpasses, Dianne Perrier, University Press of Florida (November 15, 2009), 9.3 x 6.5 inches, 352 pages, ISBN 978-0813033983