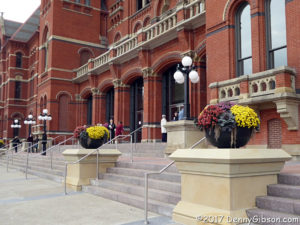 Cincinnati's Music Hall reopened on October 6 after an 18 month $135 million renovation. I didn't make it to that grand re-opening. Last Sunday's third and final performance of "American Originals, Vol 2" was my first time inside the building since I attended the MusicNOW Festival in March of 2016. That was not the final event preceding the shut-down but it was among the last and it prompted my A Pre-Refurb Peek at Music Hall post. I selected the photo at right to open this post as the closest thing I've got to the photo that began that article. There's a more inclusive exterior shot here.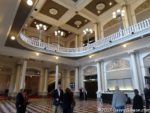 Although these photos do not attempt to duplicate any of those in the earlier post, they do make it obvious that the chandelier that once hung over the lobby, and which I sort of featured in 2016, is gone. Apparently it was decided before renovations started that this chandelier, as well as some others, would not be coming back.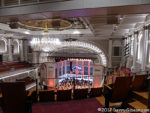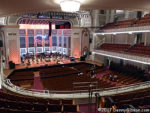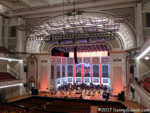 I also took a look at the balcony and gallery before I headed to my seat. Note the panels above the orchestra pit area. They're to improve the acoustics of a place I didn't even know needed improving.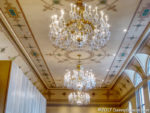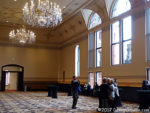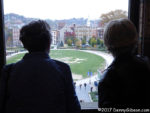 That chandelier that hung above the main lobby is one of the three now hanging in Corbett Tower. A drop ceiling was removed and the nineteenth century stenciled design recreated. Previously blocked windows have been cleared to let in more light and provide views of Washington Park.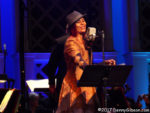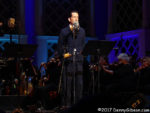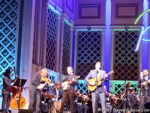 With all the gawking I did at the new and freshly uncovered beauty of the wonderful old building, I was at risk of forgetting why I was there, but I didn't. Last year the Cincinnati Pops Orchestra put together an "American Originals" project featuring the music of Stephen Foster and several world class performers. This year it was the music of the World War I era and another batch of world class performers. Specifically those performers were the Steep Canyon Rangers, Pokey LaFarge, and Rhiannon Giddens plus tap dancer Robyn Watson.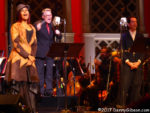 With the orchestra always adding that something extra, the artists performed alone and in various combinations. The finale was a rousing version of "I Ain't Got Nobody" with all hands on deck. In fact, it was more than just all hands, the audience was encouraged — quite strongly — to sing a couple of lines. That's Pops Conductor John Morris Russell doing the encouraging. The entire performance was recorded and a CD will be available. I assure you it's safe to buy; I did not try to sing.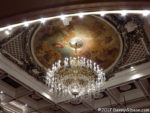 I ended the 2016 pre-refurb post with a shot of Springer Auditorium's 2,000 pound chandelier from floor level. The closest I've got to that this time is a shot taken from the balcony. The chandelier is a relatively new addition to the 139 year old building. It was added during a 1969 renovation. That meant there was talk of removing it but public outcry kept it from going very far.
I've called this a peek and it isn't a particularly good one. Among the much better photographs out there are those in an online gallery at Cincinnati Refined. I've provided even less of a peek at the concert. CityBeat published an excellent review of Friday's performance which was essentially the same as what I saw Sunday. That review is here.