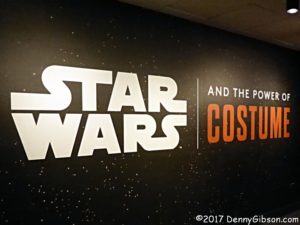 I may have missed attending a traveling exhibit at the Cincinnati Museum Center in the last several years but, if I did, I don't remember what it was. The museum brings in world class exhibits which I very much appreciate and enjoy. I was, however, rather wishy-washy about Star Wars and the Power of Costume. Still am to some degree. My initial lack of desire came from a lack of familiarity. I guess I've been sort of wishy-washy about the whole Star Wars movie franchise beyond the first one. I feared that not knowing all the details of the full story would make it impossible to appreciate the exhibit. That turned out not to be the case at all. My current wishy-washiness comes from the price. As a museum member, attending the exhibit on Friday cost me $17. The regular adult admission is $24 or $16 for age twelve and under.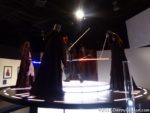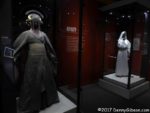 As I purchased my ticket, a fellow who had just emerged from the display and the fellow printing my ticket, had a brief discussion about how much they had each enjoyed it. One aspect they both liked was that the organization is by "type" rather then chronological. Once inside I very much appreciated that too. Having things displayed chronologically either by story line or movie release sequence (They're different, you know.) wouldn't have helped me at all and would likely have confused me.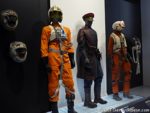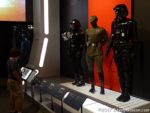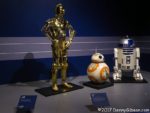 There are small clusters of similar characters such as androids, empire soldiers, and rebel fighters.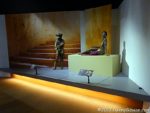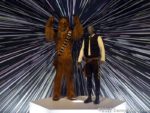 Sometimes a single pair of related costumes are displayed together. Here a couple of different Princess Leia outfits are combined and Chewbacca and Han Solo stand side by side in front of a hyperspace image.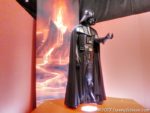 And, of course, some characters seem to just belong alone. Darth Vader masks used for specific scenes are displayed nearby. Bits of Jedi wisdom are projected on the wall behind Yoda.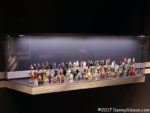 The last room in the exhibit contains many of the Star Wars toys manufactured by Kenner and tells the story of how the Cincinnati based company ended up with the contract that nobody wanted. The line was incredibly successful and revolutionized the marketing of movie based toys but did not keep the company from being merged into Hasbro in 2000.
I was honestly quite surprised that the exhibit actually made me want to see all nine Star Wars movies. I saw the first Star Wars movie and thought it was great despite feeling that George Lucas had really ripped off Dune author Frank Herbert. I also saw and enjoyed the second and possibly even the third but I don't think so. Then the whole prequel/sequel thing made me lose interest completely. Now that the story exists in its entirety, my curiosity is coming into play. Besides the more than sixty costumes, the exhibit contains many informative panels and videos. They remind me of something I already knew which is that Lucas borrowed from and/or honored many more science fiction and adventure stories than Dune and he seems to have done a better job presenting the essence of Dune than anyone who has actually used the name. I don't see myself doing an all day or more binge but maybe I'll finally get around to watching what everyone's been talking about for years.
---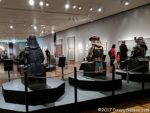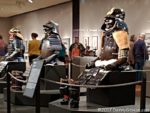 Now I'm going to invent a additional Cincinnati connection. A panel in the Star Wars exhibit states that some of the areas costume designers studied were World War II, Vietnam, and Japanese armor. Cincinnati is home to a serious collector of Japanese armor and the Art Museum has many pieces in its collection. Dressed to Kill, an exhibit of much of this armor, ended about a month ago and I'm going to turn this into an opportunity to post a couple of pictures I took there with my phone under less than ideal lighting. And now I'm going to turn this into an opportunity to mention that all the other pictures in this post were taken with my pocket Panasonic and the lighting for most wasn't all that good either. Here's hoping you won't judge them too harshly.
---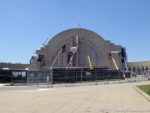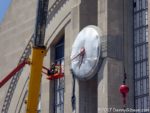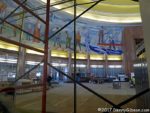 Traveling exhibits like Star Wars the Power of Costume, are possibly even a little more important now than normal since they and the Children's Museum are the only public spaces that remain open during the restoration of Union Terminal. Since my last visit. a large window has been opened into the rotunda that permits a view of a portion of the murals there. Reconstruction is scheduled to be completed in the fall of 2018.