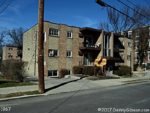 The reason that I only began my sophomore year in that old apartment building that ended last week's Part 1 post was that I got married the day after Christmas 1966 and the bride and I moved into an apartment at the rear of this building near campus. We had almost no furniture and I remember laying on the floor of the empty living room watching news of the Apollo I fire on the tiny black and white TV my wife brought from her home.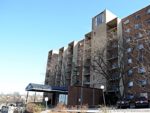 In the mid-1960s, the Forum was one of Cincinnati's newest and fanciest apartment complexes with a bar and restaurant that attracted both residents and non-residents. It was definitely a rather posh address for a poor college student. My wife's sister and her husband had been among the earliest lessees and had arranged a honey of a deal. The long term lease that was part of that deal became a big negative when the husband was offered a major promotion in New York. To avoid significant penalties, they arranged for my wife and me to take it over and we found ourselves in some pretty classy digs. The in-laws had literally gotten in on the ground floor.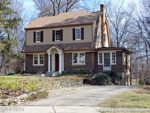 I finished my second year of college and started my third but the discovery of a pregnancy in the family made continuing unrealistic. I got a full time job and my wife started shopping for houses. I recall sort of dragging my feet and pushing for just a larger apartment but she found an offer I couldn't refuse. A middle aged couple had just moved to their dream home and were dealing with two mortgages. We bought this three-bedroom house in Pleasant Ridge on land contract. After two years, we converted to a normal mortgage with payments of $137 a month. We spent about five years here and this was our home when both sons were born. The oldest was ready to start kindergarten when the marriage was ready to end.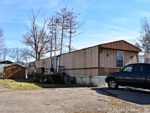 I spent several weeks with friends then rented a trailer in a park near Morrow, Ohio. I figured that renting a mobile home was about as non-committal as you could get. I can't be completely certain that this is the very trailer I lived in but I believe it is. There was no storage shed when I was there and the deck is much more substantial than the steps I climbed and it's possible that another trailer has replaced the one I rented. That means it's possible that a second of my homes is gone but this looks to be old enough and it seems quite likely that it's my old home box.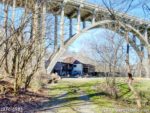 A co-worker had found this place a few years back and when he moved out another moved in. When he moved it was my turn. First time visitors seemed to always have trouble finding it despite being told it was "right under the bridge". They just didn't believe it. The bridge passing overhead carries US-22 and OH-3. The address was on the Old 3C Highway which predated the bridge and its numbered routes. The Little Miami flows under the bridge and was our front yard and playground. The four apartments can be seen better in this view. The large one on the right is where the owner and eventually an onsite manager lived. I lived in the rightmost of two apartments on the second floor and there was another smaller apartment below. This is where I lived when my kids came to live with me and for a few weeks the four of us shared the suddenly tiny apartment. They got the bed and I got the couch and the last place in the line for the single bathroom. When we went looking for a place to move, the only thing I cared about was having my own bathroom.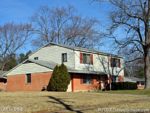 This place in Loveland won me over with a bath in the master bedroom and decent rent. Like many rentals, it was adequate but nothing special. The location was close enough to my job to not be an issue. Although the bedrooms were small, everybody had one and, most importantly, I had a bathroom.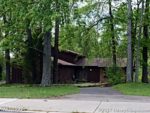 While living in the rental house, I left the corporate world and went to work for a startup. This would not ordinarily be the time to buy a house but there was Cincinnati Milacron stock in a profit sharing account that I had to do something with when I left. I decided that using it for a down payment on a house was the thing to do. After considerable shopping, we moved into this eleven year old split-level where everybody again had their own bedroom even though one was officially called a den. The boys' early school years had been split between a number of locations and they didn't like it. I also knew that my sister had not been overly pleased at changing schools for her last few years. That had been part of the discussion in moving to the rental but was an even bigger part of the purchase decision. I stayed here until the last kid was out of school which puts it in second place on my length of residence list. My second marriage started and ended here.
This is where I've lived for twenty years now. The kids and wives were gone and I was ready to stop mowing grass and raking leaves. A buyer appeared for the house and I bought the second unit in a condominium in the process of being built. Construction targets were missed and I had to negotiate with my buyer for a late departure from the house. The two week delay still wasn't enough and I spent a couple of nights in a motel and a couple of weeks in the master bedroom with furniture stored in the garage while workmen completed the rest of the unit. There are two bedrooms and the second bedroom initially held a left over bed from the house. My daughter eventually reclaimed that and I've never replaced it. I do have a large airbed so guests can be accommodated but just barely. Condo fees take care of cutting the grass, raking the leaves, and clearing the snow. I have no pets to feed or plants to water so nothing dies if I'm gone for awhile. Works for me.
So, after having eight homes in twenty years, it took me nearly thirty years to add another eight and the count's held steady since then. As things now stand my lifetime average is 4.375 years per location. I really don't like to move so that number is pretty much guaranteed to increase. In fact, the odds are good that I'll stay right here until I'm carted off to a nursing home or a crematorium.