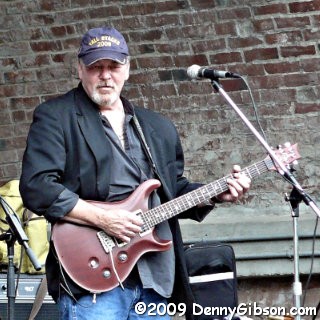 Tim Goshorn has been gone just over a week. He died of cancer last Saturday. During that week, photos and memories from friends, fans, family, and other musicians have filled the internet. The few photos I have don't begin to compare with the many great ones I've seen and my memories don't go back as far or go nearly as deep as many. But I do have memories. Lots of them. All good. Most with tapping toes and a big grin.
I didn't really know who Tim Goshorn was before that day in 1994 when I walked into Tommy's on Main. Prior to that, I thought of the Goshorn Brothers as Larry and Dan who had teamed up in the Sacred Mushroom in the 1960s. I must have seen Tim play at least once before, though. I had attended one Pure Prairie League concert and I'm sure Tim was on stage that night but it didn't really register. Although I liked Pure Prairie League's music and very much appreciated the talents of its members, I was not a big PPL fan. I was a Larry Goshorn fan.
That first night at Tommy's, Larry and Tim played alone. That continued for a few more nights then PPL drummer Billy Hinds came in with a snare and some brushes. Before long Billy was sitting behind his full kit and bassist Mike Baney and keyboardist Steve Schmidt had joined what always comes to my mind first when I think of the Goshorn Brothers Band. There were other lineups over the years and every one was impressive but the classic Larry-Tim-Billy-Steve-Mike lineup is the one that impressed me most.
It lasted less than two years but it taught me who Tim Goshorn was. A typical week had the GBB playing three nights at Tommy's and I was often there for at least one of them. Sometimes more. I got to know Tim as an outstanding guitarist and as at least a casual friend. That GBB version ended in December of 1995 when Mike Baney was shot and killed in the parking lot during a robbery.
There were other reasons involved but that murder was sort of the beginning of the end for Tommy's. The Goshorn Brothers Band continued with various members for many years and I saw them many times. Watching Larry and Tim trade off leads was one of my biggest pleasures. I also saw the duo a lot. A wonderful period for me was when they played Friday evenings at the Golden Lamb's Black Horse Tavern in Lebanon. They started at 7:00 which meant an old man like me could have a couple beers and hear some great music and still get home before bedtime. It was there that Tim and I helped each other finish off what we think was the only bottle of Buffalo Trace in an Ohio bar at the time.
After brother Larry eased into retirement in 2012, I often saw Tim with the Tim Goshorn Band and the pretty much identical Friends of Lee. I also saw him with other groups and duos. I enjoyed them all. Tim was always entertaining, always seemed to be having a good time, and always made an effort to say hi.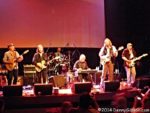 In October of 2014, I saw Tim perform with the current Pure Prairie League. This time his presence registered very much. This time I was a Tim Goshorn fan. I wish I had a better picture. They're out there. The last time I saw him play was at DeSha's on US-22. It's nearby and, as I have on other occasions, I stopped in for one set on the way to somewhere else. I spoke with Tim at the break and actually stayed for a few more songs. Damn, he was good.
---
My favorite Tim Goshorn song is Colors. The version from the 1994 True Stories (Live at Tommy's) can be heard via YouTube here. A 2011 Chuck Land produced video of the brothers performing it can be seen here. All the Lonesome Cowboys might be my second favorite (It's neck and neck with Sun Shone Lightly.) Tim Goshorn song. It opens a nearly hour long 1995 concert video of the original Tommy's GBB line up (minus Steve) that can be seen here.