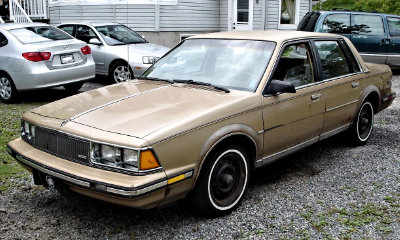 Apparently I wasn't the only one who didn't think the 1985 Century was particularly photo worthy. Not only have I no pictures of mine but the only internet picture I found of something similar is the one at right. Mine was new so had wheel covers and all its chrome bits but it may have looked much like the picture at some point in its life.
The Century was Buick's member of the A-Body family which included the Chevrolet Celebrity, the Oldsmobile Cutlass Ciera, and the Pontiac 6000. I was drawn to the family by a company owned Celebrity that the service manager drove and praised. I found my car in a newspaper ad where I think it was the low-end come-on among pricier and more desirable LeSabres, Regals, and Rivieras. It had the inline 4-cylinder which was not, I've read, very popular. Neither was it, I soon learned, very peppy. It was hooked to a three-speed automatic. The car had power locks but not power windows. Nor did it initially have a right hand mirror.
The absent mirror is easy to remember because it was the last piece of the deal. I had come to really depend on mirrors on both sides and ended negotiations with, "I'll take it if you include a passenger side mirror." The factory installed mirror on the left side was flat black and in a day or so I had a matching one on the right of my new purchase.
Although it wasn't very powerful, smooth, or quiet the 2.2 liter engine did an adequate job and delivered pretty good mileage. Actually, "adequate" is a pretty good description of the whole car. It once carried two adults and four kids, one a teenager, to and from Myrtle Beach. It wasn't roomy or particularly comfortable. It was adequate.
The American auto industry was not known for its quality in the mid-1980s. The Century's materials may have been slightly better than those used in the company's Celebrity but the build quality was about the same. A couple pieces of interior trim were already falling off when I traded the car at about a year old.