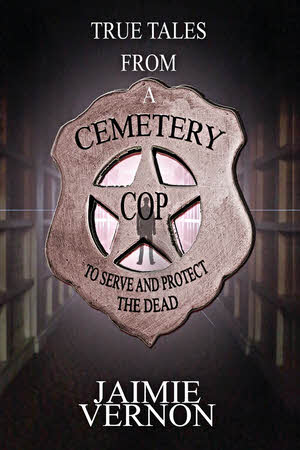 I've never met Jaimie Vernon but we're friends. We're the kind of friends that didn't even exist a dozen years ago. Yes, we're Facebook friends. It's because of music. Vernon runs Bullseye Records which represented the band Klaatu through part of their career. I'm a Klaatu fan and stumbled onto a related online group in which Vernon played an active role. The e-group eventually became more or less dormant but we remained e-friends in the Facebook world. I'm sharing this, not because it has anything to do with the contents of this book, but to explain how I even know of the book's existence. I am not in the habit of chasing down either cop books or cemetery stories.
For most, I imagine the phrase "cemetery stories" is associated with tales of hauntings and the supernatural. The tales in True Tales from a Cemetery Cop are not those. I knew that going in. I'd read the earliest versions of a few of them on Vernon's Facebook page when, still freshly amused or appalled, he related them initially. While some of the behavior documented in this book might not seem exactly natural to everyone, it is decidedly not supernatural.
Even though Vernon has written other books, including the two volume
Canadian Pop Music Encyclopedia, this was the first time I'd read anything of his beyond a few liner notes and those Facebook postings. I was happy to discover that he is a very competent writer and often a thoughtful one as well.
The book comes from Vernon's one year stint as a security guard at Toronto's largest cemeteries. It was a job he took to keep his family afloat through some rough times. Like many jobs of this sort, guarding cemeteries has plenty of short periods of hyperactivity separated by long periods of no activity at all. Being alone with your thoughts is something that most guards, patrolmen, and motel clerks experience but the thoughts that come while waiting for the next speeder or call for more towels are not the same as those that come in the middle of the night in the midst of thousands of people not one of which is living. Vernon shares some of these thoughts without being overly spooky or preachy.
But the "true tales" promised in the title come not from his time alone or non-existent interaction with the dead but from his interaction with the living. Sometimes it's with living critters like raccoons who call the cemetery home but more often it is with living human visitors. The human residents present no problems at all. There are some funny incidents and some incredibly sad ones and some that are simply frustrating. Along with those lonely night reflections, the tales provide a glimpse at a job we all know must exist but which we have probably never even thought about.
Vernon's writing is enjoyable and easy to read. He provides all the details necessary without being burdensome. He avoids specifics that could embarrass anyone although I found myself hoping some of the players were embarrassed at the very least. The book is self published and there are some "typos" that might not make it to print with a full publishing house team involved. With today's spell checking technology misspelled words rarely get through but they do sometimes get turned into the wrong word. That has happened here in a few cases. An example is the word 'undo' appearing rather than 'undue'. The rest are of the same caliber. They never prevent understanding but they might cause some readers to pause.
I won't claim that the book made me cry or laugh but the job had Vernon doing both along with shaking his head at what some of the living consider appropriate behavior around the dead. As I was reading the last part of this book, publication of a second volume was announced. It's on my list.
Signed copies are available directly from the author at CemeteryCop.com
True Tales from a Cemetery Cop: To Serve and Protect the Dead, Jaimie Vernon, Bullseye Publishing/CreateSpace Independent Publishing Platform (September 18, 2016), 9 x 6 inches, 160 pages, ISBN 978-1537138022