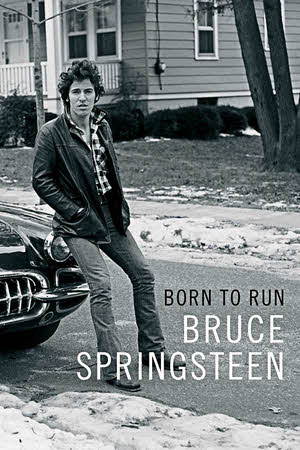 It's exactly what you'd expect. That's not to say that there is no new information and no surprises but the sometimes almost poetic writing style is exactly what I expected from a man who has produced some of the most notable English language lyrics of the last four decades. It's no secret that some of those lyrics were just a bit autobiographical so it's possible to think of this as sort of a much longer and more detailed version of the story he's been singing since he first greeted us from Asbury Park.
It's all intertwined, isn't it? Central to the story that he tells so compellingly is the fact that he is a compelling story teller. The reason we know the name Bruce Springsteen and the reason we are interested in his biography is that he is a phenomenal performer, talented musician, skilled song writer, masterful band leader, and… compelling story teller.
As a long time fan, I knew the basics so the book really did do a lot of detail filling in for me and most of those details weren't surprising. They were just additional and better information that fit what I already knew about his family, early bands, management squabbles, and the like. To a lesser degree that's even true about the battles with depression. There's no doubt that one of the highest highs in the world is being Bruce Springsteen on stage so it's not hard to accept that being Bruce Springsteen off stage can sometimes be one of the lowest lows. He writes candidly about it as he does with everything else.
Although not all do, an autobiography, besides being able to include some otherwise unknown details, can include intimate thoughts and attitudes not available to biography writers. I had read almost the entire book before it finally registered with me that this was the case with Born to Run from the very first page. By "almost the entire book" I mean the last sentence of the next to last chapter. In a paragraph that may have been the final one in some not quite finished version of the book, Springsteen tells us that "Discretion and the feelings of others…" have kept certain things out of the book but that the inside of his head isn't one of them. "But in a project like this, the writer has made one promise: to show the reader his mind. In these pages I've tried to do that."
The book contains plenty of insightful serious glimpses into that mind but a couple of insightful fun ones really registered with me. Both were in the relatively recent past. One shows his unstoppable ambition and the other his sheer love of rock and roll.
The E Street Band's 2009 Super Bowl appearance has been cited as the seed for this book. I'd seen the four song performance and kind of assumed it was no big deal to Springsteen. It was and he was extremely nervous in the days and minutes before show time. He had played to plenty of filled stadiums but not to 150 million TV viewers. He still had worlds to concur. "I felt my band remained one of the mightiest in the land and I wanted you to know it."
In 2012 the Rolling Stones were playing in Bruce's neighborhood and asked him to join them for "Tumbling Dice". There's a video online and in it Bruce never stops grinning. It's possible he hadn't stopped grinning since the night before when they rehearsed it — one time! — in a warehouse. "…these are," as Bruce explains it, "the guys who INVENTED" my job!"
The last chapter, titled "Long Time Coming", could serve as an epilogue if a labeled epilogue didn't begin on the next page. It begins with some thoughts about the Springsteen generations immediately before and after his own. Writing this book helped him understand his parents and he has some hope that it will help his kids understand him. The sentence that begins the chapter's second paragraph is "I work to be an ancestor." Like so many magic snippets of his lyrics, those half-dozen words say more than most people can say in a full page. Almost everything he's written about his own ancestors throughout the book and about his own offspring in its most recent chapters is brought into sharp focus with that one sentence.
The epilogue follows and there is even an essentially unnecessary "About the Author" page. The book ends with several pages of photographs that begin with baby Bruce and end with Bruce and wife Patti on horseback leaning together to share a kiss. My guess is he's going to be a pretty good ancestor.
Born to Run, Bruce Springsteen, Simon & Schuster; September 27, 2016, 9.2 x 6.1 inches, 528 pages, ISBN 978-1501141515