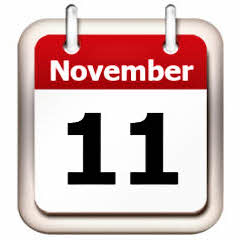 Friday's date was eleven eleven. I spent the day at the 2016 Los Angeles Route 66 Festival where the ninetieth anniversary of Route 66 was celebrated. November 11, 1926, was when the United States Numbered Highway System was officially approved so US 66 did indeed come into being on that date but so did another 188 routes. I've always thought the big deal some folks make of Sixty-Six's "birthday" to be somewhere between silly and chauvinistic. Sort of like New Hampshire celebrating its independence — and only its own independence — on the Fourth of July.
I try not to let it bother me. Route 66 has become the most famous member of that class of '26 and it's rather doubtful that a birthday party held for any of the others would draw much of a crowd. That doesn't mean they should be totally ignored, however. For my part, I wished some of my homies, like US 22 and US 36, a happy 90th too. They were "born" the same day as US 66 and are among those that still survive ninety years later. Officially US 66 does not. It didn't quite make it to fifty-nine. A date that US 66 has all to itself is June 27, 1985, the day it was decommissioned.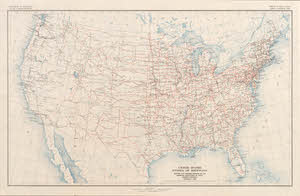 There is no question that November 11, 1926, is an important day for road fans. It really is a sort of "The king is dead. Long live the king." moment as the birth of the US Numbered Highways meant the death of named auto trails. They did not instantly vanish, of course. Some of their support organizations continued on for a few years and the Lincoln Highway and National Old Trails Road associations managed to erect long lasting roadside monuments well after the numbered highways took over. Establishing the Federal Aid Highway Act of 1956 on June 29 was a somewhat similar event but a significant difference is that, while the act authorized construction of limited-access interstate highways that were more efficient than the existing US Numbered Highways, it didn't replace the existing system or directly eliminate any of the routes. November 11, 1926, is a unique delimiter in US transportation history that is as notable for what it ended as for what it started.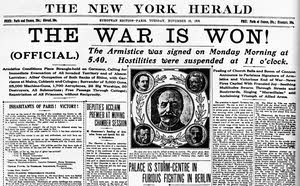 But November 11 was an actual national holiday well ahead of the creation of the United States Numbered Highway System and it marked something more meaningful than identifying one nation's roads. When I started to school in 1953, November 11 was known as Armistice Day. During the next year, the name was officially changed to Veterans Day although people around me didn't start using the new name immediately. Nor did they immediately embrace the new definition. Armistice Day marked the anniversary of the end of The Great War on November 11, 1918. It began in England but soon spread to virtually all the allied nations. Two minutes of silence — one minute to remember the 20 million who died in the war and a second minute to remember those left behind — at the eleventh hour of the eleventh day of the eleventh month was an important part of the day. Things started changing when the world had another "great war" and had to start numbering them. England and many other nations changed the name to Remembrance Day to include those lost in both conflicts and, as I mentioned, the United States changed the name to Veterans Day. This may be when we began observing a single minute of silence on the day or maybe it was always that way in the US. We observed one minute of silence at the festival.
Veterans Day really is different from Remembrance Day. The US already had a day for honoring those killed by war. The country's Civil War had given rise to Decoration Day which was eventually renamed Memorial Day and became a day to honor all persons who died while in the military. Many people seem to have great difficulty understanding or at least remembering the difference in these two holidays. It's not terribly harmful, I suppose, but running around on Memorial Day and thanking the living for their service does show a lack of understanding and detracts from the sacrifices the day is intended to honor. So does using the day to recognize all of our dead regardless of whether they even served in the military let alone if they died in that service.
---
And just one more thing, 'leven 'leven, as she learned to say very early, is also my daughter's birthday. It's a date she shares with Demi Moore and Leonardo DiCaprio among others. I know Meg doesn't want to appear the least bit presumptuous so if Leo or Demi want some help with the candles next year, I'm pretty sure she'd be willing.