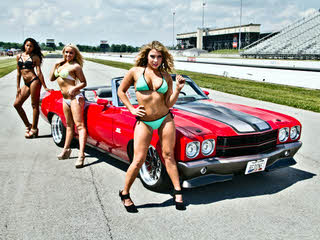 Unfortunately I've found no photos of my 1970 Chevelle. Fortunately the internet is absolutely filled with photos of 1970 Chevelles. Unfortunately not many of those look very much like mine. The era of the Chevelle and the era of the muscle car are pretty much one and the same. As I'll demonstrate shortly, non-muscular Chevelles existed but it's tire smokers like the big block Super Sport at right (Tom Mullally's Red One) that get pampered, photographed, and posted.
When I ordered the van, I anticipated reserving it for camping and other long distance trips and having the Audi around for normal daily use. All that changed with my tree encounter so I was a ready recipient when my now former mother-in-law decided on a new car. The Chevelle that replaced the Chevy II I had seen through its final days became mine for about $300.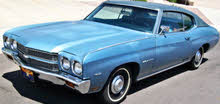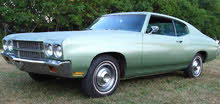 My Chevelle looked more like a composite of the two at left (also snatched from the internet) than the one at top. It was a blue 2-door hardtop but without the vinyl top. I think it had full wheel covers like the green car but I admit I'm less than certain. Like the Chevy II before it, the Chevelle had spent its life outside in an apartment complex parking lot and was seriously dinged and dinghy. It was not a rusty wreck, however, and was mechanically sound. With its 307 V8 and automatic transmission, it was neither as economical or as fun to drive as the Audi but it wasn't bad. I suspect new shocks would have helped considerably.
I owned the car less than a year and really have no stories about it. As the number two vehicle in a one driver stable, the Chevelle became something of a loaner in my circle of friends. A semi-frequent borrower needed something long term and pushed me to sell the car. I was far from anxious to part with it but he needed the car and I didn't. I sold the Chevelle for exactly what I had paid and told myself that the sale was better than a permanent loan.