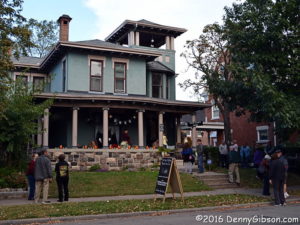 Last December I took a tour of decorated homes in Dayton. Those homes were in the Saint Anne's Hill Historic District where Fifth Street Brewpub is located and they were decorated for Christmas. On Friday evening I toured some homes in a nearby neighborhood that were decorated for a nearby holiday. The holiday was Halloween. The neighborhood was Historic Huffman. Like Saint Anne's Hill, the Huffman district was once in decline and is experiencing a come back with the restoration of many deteriorating homes. Seven houses took part in this year's Spirit of Huffman Tour. There are photos here of the three most Halloweenish.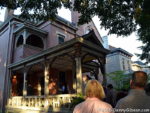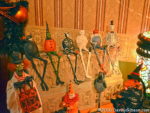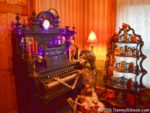 For the first home we visited, the tour is not so much a call to decorate as an oppertunity for the owner to display his incredible collection of Halloween related items. Those shown here are just a tiny portion.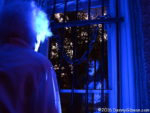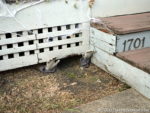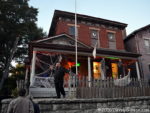 This is one of the "works in process" on the tour. A Dayton ordinance allows individuals to initiate foreclosure proceedings on abandoned houses by paying the expenses. This particular house was acquired for $1200. It was in sad shape and had been stripped of wiring and plumbing but did contain a surprising amount of furnishings including a Baldwin grand piano.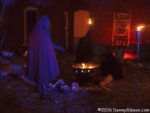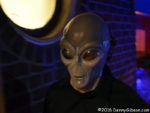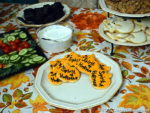 The last house on the tour was not only wonderfully restored and decorated, it offered both entertainment and refreshments. Once we had all assembled in the area between the home and the large carriage house, three witches, who had remained entirely motionless as we gathered, delivered a flawless and dramatic reading of the caldron scene from Shakespeare's Macbeth. As the scene came to an end, a lady emerged from the carriage house. Surprised by the crowd, she explained that she was doing research on the 1947 Roswell incident and the aliens that were rumored to have been brought to Wright-Patterson Air Force Base from there. There had been some recent sightings, she said, but had barely managed to warn us before we experienced a sighting ourselves.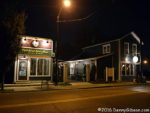 I followed the tour, as I did with last year's Christmas tour, with a visit to the neighborhood brewery.