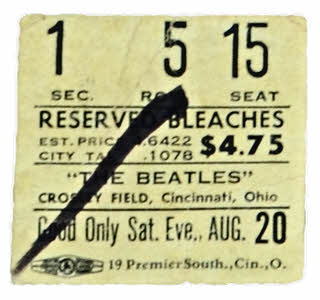 As threatened, I did go to last Sunday's The Beatles At Crosley – 50 Years Later! I probably should have coughed up $1.29 for a Wild Thing MP3 but I didn't so there was no point in cruising the Senior Center. I did, however, make the drive with the top down despite the fact that number of wheels and a collapsible top are about the only things my 2003 Miata has in common with my 1959 Impala. Other differences between 1966 and 2016 include the presence of a camera in my hands. I still had no souvenirs but I could photograph other people's. The ticket stub pictured above (note the word "bleaches") belongs to long time friend Charlotte Wiltberger. By long time I mean that, although I didn't know her when she bought the ticket, we would meet in a matter of months.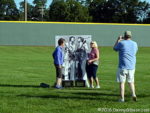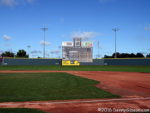 A five foot blowup of one of Gordon Baer's Cincinnati Post photographs was placed on the field to provide a nice spot for attendees to pose for their own photos. I walked to the first base side of the field to snap a shot that approximates my field of view at the concert.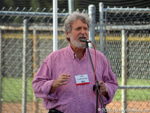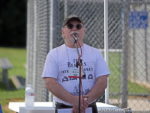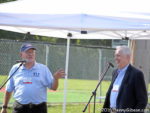 The event was sponsored by radio station WVXU and the brainchild of John Kiesewetter. That's John on the left of the first picture introducing Dusty Rhodes. Dusty is now Hamilton County Auditor but once upon a time was a radio discjockey and one of the men responsible for bringing the Beatles to Cincinnati in both 1964 and 1966. The middle picture is of The Beatles Invade Cincinnati author Scott Belmer. Discjockey Jim LaBarbara, in the third picture, didn't move to Cincinnati until 1969 but "The Music Professor" had contact with the Beatles in other cities.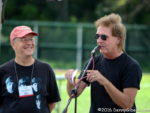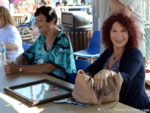 Other folks sharing memories included discjockey Tom Sandman and musician (Haymarket Riot) Steve Helwig. That's Bev Olthaus and Charlotte, whose ticket appears at the top of this post, in the second picture. Bev attended both the 1964 and '66 concerts and has both tickets and a scrapbook filled with memories. There's a better look at what Charlotte has in that frame here.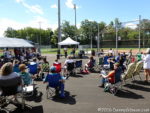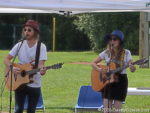 Jeff and Misty of the Newbees wrapped things up by leading a sing-along of Beatles songs. No screaming. No crying or fainting. Just a bunch of people with fifty year old memories mouthing the words to songs that helped many of us through quite a few of those fifty years.