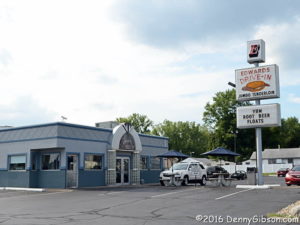 I was invited to join a few road fans at a new-to-me drive-in on Wednesday and that's just what I did. Although I was not even aware that Edward's Drive-In existed it has long been an Indianapolis, Indiana, fixture. It opened in 1957 as a Dog 'n' Suds. When owner Herb Edwards later went independent he gave the restaurant his own name. A 1978 tornado and a 2006 fire led to significant changes and additions so that the place looks quite a bit different and is a whole lot bigger that the original root beer stand. However, the curb service that was available in 1957 is still offered today.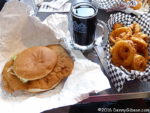 Indiana is known for big pork tenderloin sandwiches and Edward's was among the first to serve the popular bun busters. From the beginning the meat was pounded into shape and breaded on site and that's still the case today. The current menu is fairly large but the three things in the picture are what people are most likely to associate with Edward's Drive-In. The tenderloin is good and certainly holds a place in Indiana tenderloin history but it's not the best I've ever had. The hand-dipped onion rings just might be. The tasty house made root beer is perfect for washing it all down.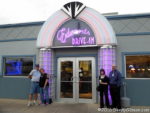 The neon trimmed entrance makes a nice spot to photograph dinner companions Dean Kennedy, Jenny McGinnis, and Jennifer & Pat Bremer. Good food tastes even better when seasoned with good conversation.