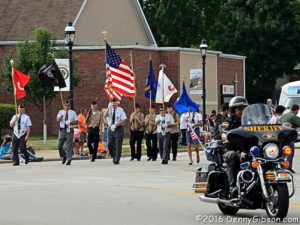 Last year what was said to be lack of interest but which can probably better be described as lack of agreement sidelined the Annie Oakley Days Parade in Greenville, Ohio. This year it was back and seemed to be just as popular and nearly as big as it ever was. The return of the parade was announced quite some time ago and right before my last visit to Greenville, some six weeks ago, it was announced that the Grand Marshalls would once again be relatives of mine. Several years ago a cousin and her husband had filled the roles. This year it would be an aunt and uncle.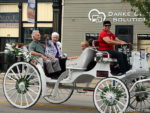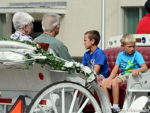 Shortly after the color guard swung around the corner and the parade started down Broadway, the Grand Marshalls rolled by in a white carriage. Uncle Dean and Aunt Arlene had their youngest grandsons with them but Sam and Charlie weren't really into that smiling and waving thing. They did, however, keep a sharp lookout on both sides of the carriage to prevent any and all surprise attacks.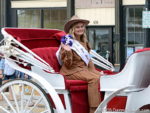 Katie Hurd, Miss Annie Oakley for 2016, won her title the old fashioned way — with a gun. Contestants didn't attempt to gun each other down but, like the real Annie Oakley, demonstrated their shooting skill by firing at a target. The shooting starts at 25 feet and the distance is increased until only one shooter hits the baloon target baloon. That happened at 100 feet. Hurd wears two sashes because she also won this year's Best Costume competition.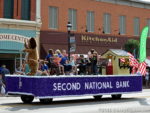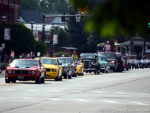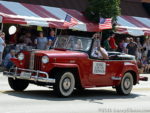 Many local businesses supported and participated in Saturday's parade. There were also plenty of cars. The Darke County Jeepsters are personal favorites. Their matching red vehicles appear in many parades. The parade also contained quite a few Shriner units.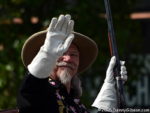 It's certainly fitting that Buffalo Bill Cody rides in Annie's parade. The long association that the two had benefited them both greatly.