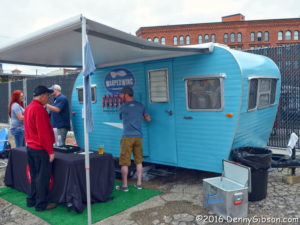 When the largest brewer in Dayton, Ohio, started thinking about something to take to local festivals, someone asked "What about that old local company?" As soon as he explained what old local company he was talking about, someone else asked "Why not?". Next thing you know they're dragging a nearly sixty year old camper out of the weeds and working on a new beer recipe to go with it. Both had their official debut Saturday.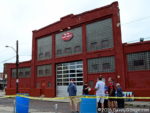 The brewery in question in Warped Wing Brewing Company. There were already several breweries in and around Dayton when it opened just over two years ago but Warped Wing immediately became the largest. Most of the others are rather small with little or no off-site distribution. Warped Wing's founders had canning in mind from the day they opened and their draft products are available in many area bars and restaurants.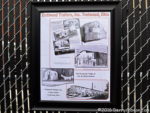 The "old local company" of interest was Trotwood Trailers who operated for many years in a Dayton suburb of the same name. The company actually got its start in the 1920s with tent campers like the one shown in the poster. It was still operating when fire destroyed the factory in 1981. More information about the company can be found here and here.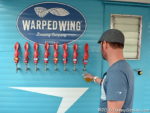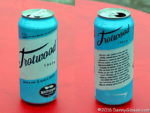 I stepped right up to try out the draft version of the new Trotwood Lager. It's an easy drinking American stye beer with 4.0% ABV and 20 IBU. Modifications have reduced the 1957 Trotwood Economy model's suitability for family camping but with eight working taps it probably doesn't matter. Being the sort of guy willing to go the extra mile when needed, I also tried a can for the sake of completeness.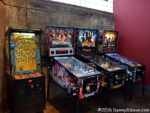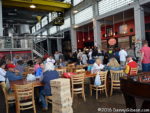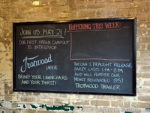 Ohio law prevents carrying a beer purchased outside inside and vice versa. With the sake of completeness still in mind, I stepped inside while my hands were empty. Even though the festivities and music were outside, cool temperatures brought quite a few people inside. Or maybe it was the game room.
Now about that title. I certainly mean no disrespect to Pat Bremer and his seriously informative Small Trailer Enthusiast website. It's just that sometimes these ideas come and I lack the discipline to ignore them.
---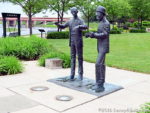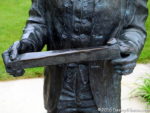 My stop at Deeds Point before visiting the brewery was pure coincidence. Taking these photos was not. I had some time to kill before the brewery opened and the park was a convenient place to do it. Once I realized that the bronze Orville was demonstrating the twisting of a box that led the brothers to the warped wing principle that allowed them to control their flyer and that gave its name to the brewery where I was headed, a picture seemed super appropriate. As I'm sure you're aware, it wasn't getting off the ground that was the breakthrough. It was controlling the aircraft and getting back on the ground that set the Wright Brothers apart.