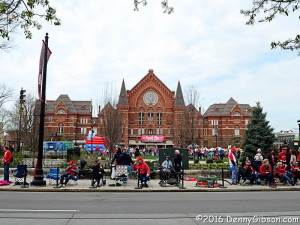 I'm sure some folks get tired of hearing about how special Opening Day is in Cincinnati but that's not going to stop me. I won't write as much about the history as I did back in 2012 but I will again mention that the world's oldest professional baseball team always opens at home and always has a marvelous parade. The picture at right shows people gathering for the parade on Race Street. Behind them is Washington Park and Music Hall stands beyond the park. The park was completely renovated a few years ago and is now a popular gathering place for families. Music Hall will be closing soon for its own renovation. I reported on a performance there a couple of weeks ago.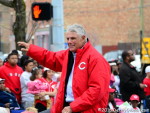 Lou Piniella managed the Reds in their last World Series win in 1990. I remember it vividly and recall thinking that it had been a long dry spell since The Big Red Machine wins in 1975 and '76. But that was just fourteen years and the Reds have now played twenty-five seasons without even getting to a World Series let alone winning one.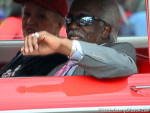 I snapped a picture of the Corvair station wagon as it approached but didn't realize who was in it until it was beside me. That's legendary King Records studio drummer Phillip Paul with who I believe is his good friend Roberta Narcisse beside him. Paul recorded the original "The Twist" with Hank Ballard and the Midnighters, "Train Kept a Rollin'" with Tiny Bradshaw, "Hide Away" with Freddie King, and an incredibly long list of other hits. Paul isn't quite as flashy as another local music legend who was in last year's parade but, while Bootsy Collins performs only occasionally, the ninety year old Paul has a steady weekend gig in downtown Cincinnati.
President William Howard Taft threw a ceremonial first pitch to start the Washington Senators 1910 season and every president since has thrown a first pitch at an Opening Day, World Series, of All Star game at some time while in office. Taft was a Cincinnati native and his former home is now a National Historic Site. A fancy brewpub right on today's parade route bears his name. If you have any thoughts of being a Taft impersonator, Cincinnati is the place to be.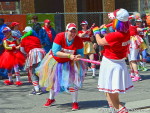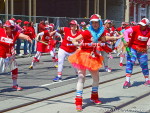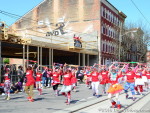 In less than a year of existence, the Red Hot Dancing Queens have made me a most sincere fan. As I told a small group of them I encountered after the parade, if everyone could have a mere fraction of the fun these gals have, the world would be a much better place. Watch for them at parades and festivals throughout the summer.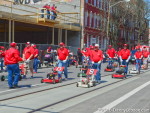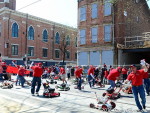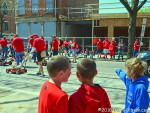 Here's another parade group that I like a lot. I recall first seeing the Wapakoneta Lawnmower Precision Drill Team a long time ago in a Saint Patrick's Day but they haven't been in that parade for many years. They might have realized that the fun was draining from that parade well before I did. After completing one of their precision choreographed drills, there was a pause in the parade and some of the team members dashed over to the curb to high-five some of the spectators. Only after he had rejoined the formation did the group of boys in front of me notice the faux southern exposure on the guy they had just exchanged high-fives with. As we all know, a little snicker makes everybody feel better.