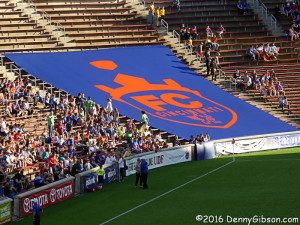 Cincinnati has a new professional futbol… er, soccer team. It's not the first. Rummaging through an assortment of teams, vanishing leagues, and shifting designations it looks to me as if the most recent fully professional soccer team to call this city home was the 2006 Cincinnati Kings. The match that the new team, Futbol Club Cincinnati, played yesterday was not their first. That was a March 26 loss to Charleston Battery. Nor was it their first win. That occurred April 3 at Bethlehem Steel. It wasn't even their first home match or their first home win. Both of those were accomplished  with last Saturday's game against Charlotte Independence. The match was, however, a first for me. It wasn't just the first FC Cincinnati match I've attended or my first professional soccer match. It was the first "real" soccer match of any sort that I've ever seen in person.
All three of my kids played soccer at some point or another and I saw many of their games. I don't want to belittle those games or the players efforts but the truth is that they often knew little more about soccer than I did. My oldest son, Cris, was an exception. He became a real fan. On his most recent visit to Ohio, we spent an evening in a bar specifically to see a World Cup match of particular interest to him. He worked hard to keep his old man from looking too stupid but I retained very little of what I learned. On his way to becoming an adult soccer fan, Cris did some fairly serious playing himself. Not long after high school graduation he joined an indoor soccer team and I attended a number of their matches. Those games were some of the fastest and most exciting competitions I've ever witnessed but indoor soccer is not the same sport embodied in the World Cup.
Part of the attraction of any sport is the culture that surrounds it. I have the feeling that that is more so with soccer than other sports but that could simply be the result of my outsider's viewpoint. With help, I was able to overcome a little of my ignorant outsider status for my first match. Apparently formal supporter groups are standard procedure in the world of soccer. They exist in other sports, Cincinnati's Rosie Reds immediately comes to mind, but they seem much more prominent in soccer. I am aware of three such groups, The Pride, The Den, and Die Innenstadt, associated with FC Cincinnati. I'm reasonably well acquainted with one of Die Innenstadt's organizers and close friends with someone who joined a bit later. I experienced my first pro soccer match as a Die Innenstadt hanger-on.
For the first home game, members met at the Rhinegeist Brewery near downtown and walked to the game from there. For this and all future home games, Mecklenburg Gardens is the official meeiting place. The distance is about the same but the walk is now fairly level rather than a one mile climb up a Cincinnati hillside. Our participation was not quite as complete as we had planned. Mecklenburg Gardens was packed when my friend and I arrived. The group started their march several minutes ahead of the announced time and, more importantly, several minutes before we had worked our way through the long and slow moving beer line. We "marched" to the stadium as a group of two.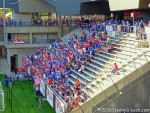 By the time we arrived, the group was in place in an end zone area known as the Bailey. We took our place in the Bailey but chose seats off to the side thinking that would avoid some of the major flag waving and such and might give us a clearer view of the near goal. That helped to a degree but the entire Bailey was filled by game time and most of those fans stood through every minute of play.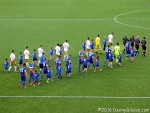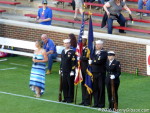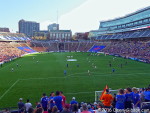 Players were on the field warming up but took off ahead of the opening ceremonies. Both teams reentered the field together. Each player was accompanied by a jersey wearing youngster. That's something I wish I'd made an effort to learn more about.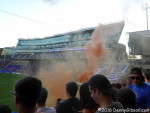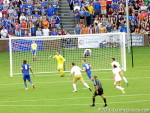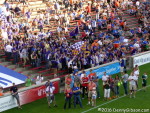 The home team scored first and the Bailey celebrated with an orange smoke bomb. A blue bomb had started the match. FC Cincinnati would score one more time but it was in the final minutes long after visiting Louisville City FC, who had their own small but energetic group of supporters in the stands, had three points on the board.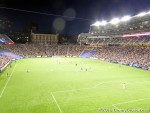 So I got to see FC Cincinnati's first home loss but I had a great time and may have even learned a thing or two. And I also got to be part of a record setting crowd. The 20,497 in attendance last night was a USL regular season record. Cincinnati may really be ready for soccer. Just before the match started I texted my futboler son to let him know I was about to experience something new. His reply was the best thing I read all day. "Don't forget your scarf!"