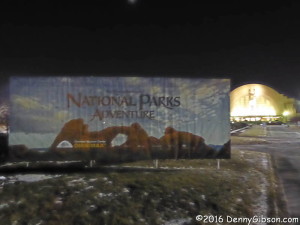 On Thursday I made a nighttime visit to the Cincinnati Museum Center. It wasn't the first but they're not at all common. Most of my visits take place in the light of day. A new IMAX film had premiered at the National Museum of Natural History in Washington, DC, on Wednesday. On Friday it would open in about forty theaters across the USA. A handful of theaters were permitted to hold screenings on the day in between. Cincinnati's Robert D. Lindner Family Omnimax Theater was among them and, by accident or an act of kindness, I was invited to be among those attending.
Immediately after seeing National Parks Adventure I sent a Tweet calling it spectacular. "Spectacular" is a word that fits virtually all Omnimax presentations. The screens that wrap around the viewers are huge. Quite often so are the subjects. Mountains, canyons, oceans, and starry skies are popular and fitting. National Parks Adventure is certainly spectacular in the immense-scale grandiose sort of way naturally associated with the word. There are plenty of mountains and canyons but early in the film I was struck with not just the size of the images but of their beauty and technical quality as well. I believe it was a shot of mountains reflected in a lake that first triggered the thought that many of the images I was seeing did not require a five story dome to be spectacular. Printed on flat and comparatively tiny pieces of paper, scenes from the movie could yield a very impressive coffee table book. Even six inch postcards made of images from the film would probably be stunning. I can't quantify the difference or even prove it exists but I thought the images in National Parks Adventure had sharper focus, more vivid colors, and better composition than those of any of the many Omnimax features I've seen.
Stunning visuals are the reason that Omnimax theaters exist but a little story telling never hurts. National Parks Adventure tells a couple that help put things in perspective. Some historical perspective comes from the inclusion of old photos and some well done recreations. Without getting in very deep, the movie offers glimpses into some of the threats to our nation's natural treasures and into the role of John Muir and Teddy Roosevelt in protecting them.
Size perspective is provided by following three friends as they visit several national parks. The trio is not plucked randomly from tourists at a park entrance. Renowned climber Conrad Anker leads the group which includes step-son Max Lowe and family friend Rachel Pohl. Max is a photographer and Rachel is an artist. Both are experienced climbers. As you might expect, the group climbs just about everything from seemingly bare rock faces to vertical sheets of ice. They also go biking, hiking, skiing, and probably do some other things I've forgotten. This is, I assume, the "adventure" of the title and it is all captured beautifully by an IMAX camera that is often high above the adventurers.
I could ramble on and on but I'm even less qualified to review movies (This is my first attempt.) than to review books and CDs. Using the universally accepted "a picture is worth a thousand words" exchange rate and assuming 24 frames per second, the movie's trailer provides the equivalent of 171,360,000 words.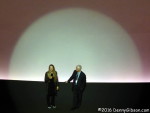 Cincinnati Museum Center is a founding member of the seven theater Giant Dome Theater Consortium which was a major supporter of the film's production. Not only did that allow them to be one of the theaters hosting advance screenings, it undoubtedly played a role in having one of the film's stars, Rachel Pohl, in town during the opening week. Following Thursday's screening, she was introduced by the museum's Vice President of Featured Experiences and Customer Services, Dave Duszynski, and happily — nay, joyfully — answered a number of questions from the audience.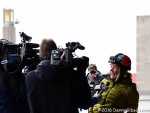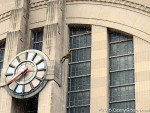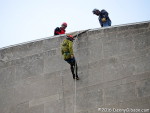 On Friday morning Rachel rappelled down the front of Union Terminal, a.k.a. Cincinnati Museum Center, to draw local attention to the film. It's pretty obvious that the happy adventurer seen in the film is not an act. Her artistic side gets all the attention at RachelPohlArt.com. On Saturday, Rachel put her recently obtained fine arts degree to use working with even younger artists at the Children's Museum inside the Cincinnati Museum Center. Sorry I missed it.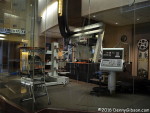 The Lindner Family Theater will be temporarily closing this summer as part of a $212 million Museum Center renovation. Older films will be shown as part of the classics series but this is the last new film to be presented before the closing. It is anticipated that when the theater reopens after a couple of years, it will be with a new state of the art digital system. That means that National Parks Adventure is probably the last new film to be shown here ever.