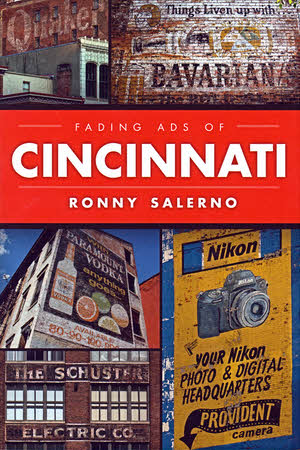 Buying local is a good thing and so is reading local. I was able to combine the two recently. November 30 was the official release date for a new book about Cincinnati and in the early evening its author made the book and his signature available at a downtown location that appears between its covers. The book was Fading Ads of Cincinnati, the author Ronny Salerno, and the location Igby's Bar inside a building with a fading "TWINE PAPER" painted on its side. Those two dim words are typical of the fading ads that are the book's subject.  How could I not?
Although this was my first time meeting Salerno, I knew the name. I first spotted it on some photographs in a small exhibit near downtown Cincinnati a few years back. I wasn't clever enough to find his wonderful Queen City Discovery blog from that prompt but I did find it eventually and I've followed it for some time now. Salerno loves taking photographs and he's really good at it. He especially loves taking pictures of old abandoned buildings with a story. A third love is also apparent in that blog: the city of Cincinnati. He brings all three loves to Fading Ads of Cincinnati.
The book is the latest in the Fading Ads of… series published by History Press. About the only reference to a publisher I've made in past reviews is an identification at the end. Saying a bit more seems appropriate here. Until last year, the USA's History Press Inc. was part of the UK's History Press Ltd. It was acquired by Arcadia Publishing in the middle of 2014. All of those entities deal with local and regional topics and often use something of a formula approach. Although it is not all they do, Arcadia is probably best known for their sepia-toned Images of America books. As hinted at by the title, these books are filled with images most of which are historical. The images are selected and described by local experts who typically also provide several pages of introductory text at the book's beginning. More often than not, these experts are not just knowledgeable but have a personal attachment and attraction to the subject. Saying that most love what they write about would not be wrong. History Press publications tend to be wordier and, although historical images are sometimes used, include plenty of modern color photos. But, just like those Arcadia books, History Press books rely on local experts for their creation and, just like those Arcadia book writers, these experts are often in love with their subjects, too. Kind of sounds like Ronny Salerno, doesn't it?
Salerno is a good match for the Fading Ads… series. Before reading the book it had actually occurred to me that he might have had every subject identified and many photographed long before he even took on the job. That wasn't quite the case, however. He was naturally familiar with many of the area's old signs but not all. He conferred with other "sign hunters" and got tips from friends but he also found his own senses sharpening as he strolled through both unfamiliar and familiar neighborhoods. The result is nearly one hundred new color photos of mostly — but not entirely — old stuff. There are also several historical photos from places like the Library of Congress.
The photos aren't left to stand alone. Captions describe each of them, of course, and many get multiple paragraphs of attention. Salerno has been successful in digging up many of the signs' histories with some of the best stories coming from signs identifying local or regional companies that are no longer with us. Names like Shillito's and Brendamour's will be recognized by many Cincinnatians and probably some others as well. Out-of-towners might not be familiar with local landmarks like Davis Furniture ("The Friendly Store") or the Dennison Hotel ("105 Rooms – 60 baths") but they are exactly what I and some other locals think of when we think of "fading ads" or the more common "ghost signs".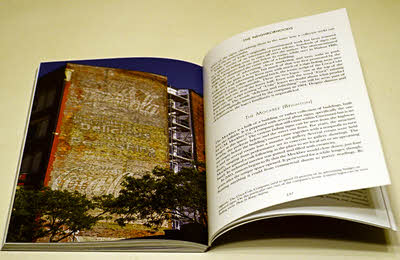 Salerno brings up the phrase "ghost signs" in the introduction and says people often thought he was writing about the supernatural when he used the term. "Fading advertisements", he says, doesn't have that problem. Fair enough but it's just possible that his position also has something to do with the book's predetermined title. "Ghost sign" slips into the book a time or two and in the final chapter Salerno more or less acknowledges the validity of both. As for me, I'm comfortable and most familiar with the term "ghost signs" (and "ghost bridges" and "ghost towns") so I'll just continue to think of Fading Ads of Cincinnati as a book about ghost signs.
Geography has a lot to do with the book's organization and the bulk of the photos are in three chapters titled "Downtown", "Northern Kentucky", and "The Neighborhoods". Like any city of any size, Cincinnati has official and unofficial neighborhoods with their own identities. It's southern boundary is defined by a river that also defines the border of Ohio. In some ways, the Kentucky communities on the south side of the river are quite different from those on the north but the ease with which a cluster of bridges usually allows interstate traffic makes them often seem like Cincinnati suburbs. The prominent "John R. Green Co" sign in Covington, Kentucky, fits in this book as comfortably as the "Little Kings" sign in Cincinnati's West End.
I mentioned that not everything pictured in the book is old. One chapter in particular shows almost exclusively new unfaded and non-ghostly signs. The photos were taken at the Cincinnati Reds' home field and include a shot of a huge sign announcing the 2015 All-Star Game which Cincinnati hosted. The "fading ads" connection is solid and arrow straight. Those stadium signs and many more around the area are the work of Holthaus Lackner Signs, a company headed by Kevin Holthaus. Kevin is the grandson of Gus Holthaus who started the company and whose signature appears on many signs in the area including several in Fading Ads of Cincinnati. The only old sign appearing in the "Signature Legacy" chapter is a remnant of a sign possibly painted by Kevin's great-grandfather, Arnold Holthaus.
A link at the end of this article leads to the book on Amazon. An entry on Salerno's blog identifies other online outlets and several area stores where it is also available. Another option is to catch the author at a local bar with a faded sign but you'll have to be both patient and vigilant.
Fading Ads of Cincinnati, Ronny Salerno, The History Press, November 30 2015, 9 x 6 inches, 160 pages, ISBN 978-1467118729