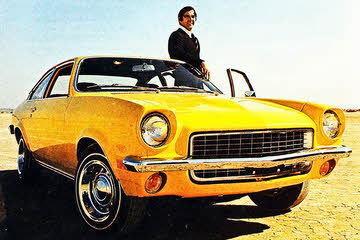 No. That's not my Vega and that's not me. It's John DeLorean in the August 1970 issue of Motor Trend where he was singing the praises of Chevrolet's new small car. The editors were singing right along with him and even adding some verses of their own. A month later, Car and Driver and Road & Track joined the choir. In February, Motor Trend named the Vega 2300 their 1971 "Car of the Year". All this for a car that today has a reputation just slightly better than Yugo.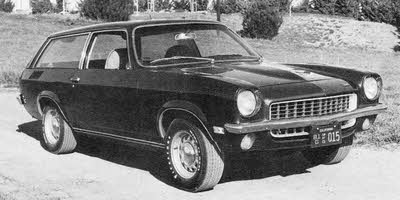 I could't find any pictures of the dark green 1971 Kammback that I bought in the summer of 1974 so I took to the internet. I didn't have much better luck there. This black & white photo of what is identified as a 1972 model is the best I could do. The shortage of photos surprised me but so too did the abundance of early praise. I can't explain the absence of decent Kammback photos so maybe my surprise at that is justified. My surprise at the praise isn't. In fact, what those magazines said about the car — great handling, sporty looks, comfortable ride — is exactly what I thought of it forty years ago. I was surprised only because I had forgotten.
Of course, I had ample reason to forget how much I and the world initially liked that car. The Vega was not kind to General Motors or to me. Several problems, including fragile axles, faulty carburetors, and premature rust, plagued the Vega but the biggie was the aluminum engine block. Oh, how well I know. Within six months of my buying the car, overheating became an issue. The problem was diagnosed as a cracked head and I replaced it. That helped for awhile but the overheating soon returned. I drove the car to New York where a friend was working and he rode back with me. Well, almost back. With a few miles yet to go, the cooling system erupted and brought things to a halt.
By then, the Vega engine story was starting to be pieced together. I don't have a clear understanding of the situation but know that the aluminum block and iron cylinder head had their differences which led to leakage from the block's water jacket. In my case, replacing the head gasket had probably cured things temporarily but the real problem was the block. The commonly accepted solution was to put steel sleeves in the aluminum cylinders. I bought a properly sleeved short block from Jasper and, using block & tackle and a friend's shed, dropped it into the car.
I now had the ultimate Vega but it would not last. This time it was me and not the car that malfunctioned. As noted in the Opel and red Corvair reports, this was the time of my first divorce. As the recently divorced often do, I showed a pronounced lack of restraint at a Christmas party and headed to a friend's house less sober than I should have. I lost control on a curve and tried unsuccessfully to climb a light pole. Police were soon on the scene. They did not question my sobriety a bit so alcohol may not have been a major factor even though I've little doubt that it contributed along with the late/early hour.  The Vega with its new steel-sleeved block and only slightly less new head was totaled.