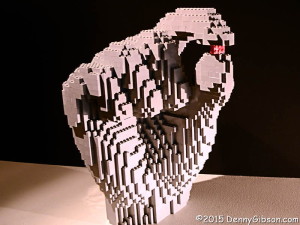 "Remember", says Nathan Sawaya, "it all starts with one brick." Sawaya is the artist responsible for all those LEGO® sculptures currently on display at Cincinnati's Museum Center in "The Art of the Brick". I failed to do my homework before visiting the exhibit on Monday though I actually think that might have helped as much as it hurt. Since I'm writing about it, I'm obviously not advocating that everyone attend with the level of ignorance I had but I can't help but think my off target expectations caused me to be more impressed with some aspects of the exhibit than I would have been otherwise.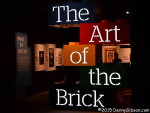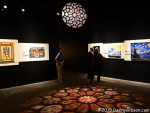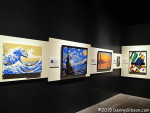 Museum mailings on the exhibit included "Make & Take" and "Harry Potter Building Part" promotions. Apparently those "fun & games" promises made more of an impression on me than the word "art" in the title. What I expected, I suppose, was a collection of technically impressive structures. My misconception was not immediately apparent as things started off with items that were either flat or fairly shallow base-relief. Most were copies of popular works which more or less supported the idea of "technically impressive".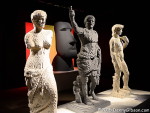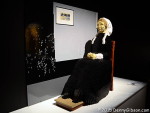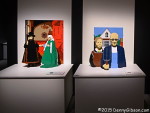 Next up were some fully 3-dimensional copies of some 2- dimensional works of art. These were followed by reproductions of some familiar 3-D sculptures. The technology was more complex and the results more impressive but it was still, you know…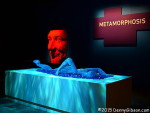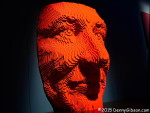 Then things changed. I don't really know what Sawaya had in mind when he chose the word "metamorphosis" to identify a particular subset of his work but I do know it fit what I experienced. When I first entered the exhibit I didn't even know that it was the work of one man. I learned that during the introductory video. I now realized that the word "art" in the title was no accident. Venus de Milo and friends were essentially the last "reproductions" in the exhibit. Sawaya's vision would pretty much rule from here on out. An athlete is captured mid-stroke in Swimmer. Facemask is a self portrait.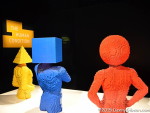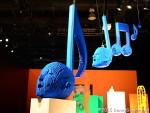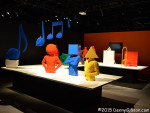 That Sawaya is a talented artist as well as a skilled technician becomes even more apparent in his "Human Condition" collection.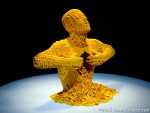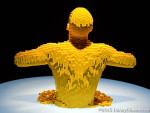 As Sawaya notes, Yellow is probably his best known piece. Its ability to grab attention gets it featured in plenty of ads and brochures. Full frontal shots are everywhere and oblique views aren't uncommon. This "dark side of the moon" shot is a kind of rare, however. Sawaya also notes that it gets that attention from both young and old. For adults he conjectures that it is seen as a "cathartic 'opening one self up to the world'" and for kids he thinks it's "Probably because yellow guts spilling onto the floor looks cool."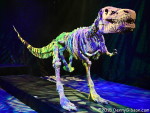 I know this isn't very artsy. I guess it might even be considered a reproduction of sorts but it's not a reproduction like that reproduction of Michelangelo's David. In this entire exhibition made of children's building blocks, this is the only piece that was made specifically with kids in mind. It isn't life size but it is big — over six feet tall and a tad under twenty feet long — and it is certainly technically impressive. 80,020 pieces they say.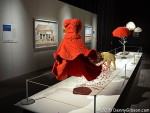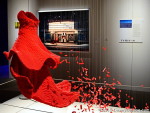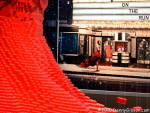 One more big surprise awaited. It's a collaboration with photographer Dean West called "In Pieces". The first picture shows a group of items constructed from LEGOs by Sawaya. The surrounding walls are lined with photographs in which the items are combined with people and other real-world elements. For example, the red dress can be seen being worn in the picture beyond it.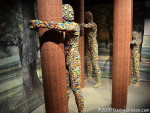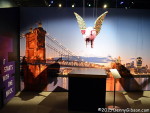 These two pieces near the very end of the exhibit may require a little explaining. Cincinnati was once the pork packing capital of the world. Porkopolis borrows the city's one time nickname and flying pig mascot. Sawaya made the piece specifically for this exhibit. Hugman is the name of a style of sculpture that Sawaya likes to install in various cities he visits. The three shown here are special in that they are made of bricks by visitors to other exhibits. I may have even found one signed by an unknown relative. "The Art of the Brick" differs from most temporary exhibits at the museum by not only permitting but encouraging photos, even flash. That might be apparent simply by the number of photos in this article. That much appreciated photo policy made the purpose of that empty pole obvious to me even though it wasn't exactly spelled out.
"The Art of the Brick" is at the Museum Center through May 1 and is definitely recommended.