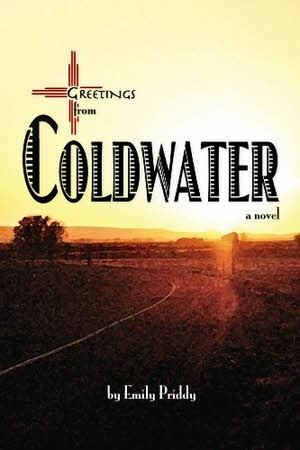 I'm going to admit right up front that defending this post against my About page claim that readers will "not be seeing a review of the latest novel" is pretty much a lost cause. I proclaimed my earlier review of Cincinnatus "not guilty" on the technicality that, at five years of age, it was not "the latest novel". That tactic simply won't work here as Greetings from Coldwater was published right at two months ago and is Priddy's latest offering and first novel. That I am guilty of breaking my own promise is obvious. I can only beg for leniency on the grounds that I did say I'd be reviewing books "related to something I personally like such as old roads or cars" and, while Greetings from Coldwater isn't actually about Route 66 or classic Volvos, both have roles. Maybe I can be forgiven.
Volvos only get bit parts but Route 66 is a star. The novel's story-line is a girl-meets-boy romance. Motel owner Sierra Goldsmith meets school principal Grant Loucks and sparks — tastefully subdued — ensue. But Grant doesn't even show up until page 104 and there's romance in the air almost from the book's beginning. That romance is between Sierra and Route 66. More specifically Route 66 in New Mexico. Anyone who knows Emily Priddy will recognize that the love Sierra has for the state and its portion of the historic highway is a dead-on reflection of the author's. There is no avoiding the fact that there is a certain amount of autofantasy (It's related to autobiography.) in the book but it's hardly a hindrance. It doesn't get in the way of the story and it adds energy and conviction to its telling.
Sierra is not a motel owner when the story begins. She stumbles into the aging Tumbleweed Motel shortly after her fathers death. Her mother died years before and they had separated years before that. The fictitious Tumbleweed is in the equally fictitious town of Coldwater, New Mexico. The more or less directionless Sierra, buys the motel and proceeds to refurbish it as she learns about the small town that has suddenly become her home. Even after Miss Shirley, the previous owner, leaves the Tumbleweed, Sierra isn't the only full time resident. She inherits/adopts Joey, the developmentally disabled resident "handyman" Miss Shirley had taken in long ago. Other businesses in the town include a garage, hardware store, and bar each with a friendly and helpful — in his own way — owner. It's a good place for someone who, although not exactly running from her past life, is not at all eager to share it.
Not only does Priddy have the knowledge, through years spent on Route 66 and the Coldwater-like towns it connects, to paint a complete and colorful background for her story, she has the skill, from years as a journalist, to tell that story properly. I wouldn't know a good romance story if it stuck its tongue in my ear (although I suspect that's a sign of a bad romance story) so I can't really say if the tale of Sierra and Grant is one. I can say that it is well written.
It is also well drawn. Several of the novel's chapters are fronted by pen-and-ink drawings produced by Priddy. In her acknowledgements she points to the late Bob Waldmire as the influence for these. Some are indeed reminiscent of his work and add to the book's Route 66 flavor.
There are some "Easter eggs" in those drawings and in the text. Readers familiar with the Route 66 community will have fun finding them, all readers will be treated to a well informed sense of what life beside the historic highway might be like, and some readers will really enjoy following Grant and Sierra as they deal with the baggage Sierra brings to their relationship. I guess I even enjoyed it a little myself. It is somewhat, as Joey would say, "a kissy story" but not terribly so. The girl definitely shows some love for her guy but she shows at least as much for her road.
Greetings from Coldwater, Emily Priddy, CreateSpace Independent Publishing Platform, September 26, 2015, 9 x 6 inches, 272 pages, ISBN 978-1517049386