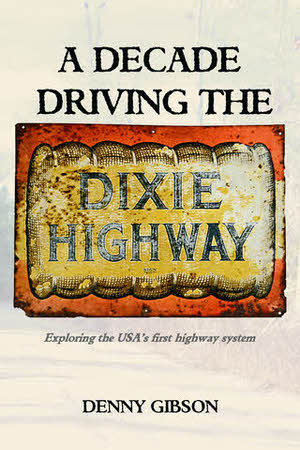 I did it again. I wrote another book. It's a lot like the other one. It's an illustrated travelogue and, although there is no old car involved, there is an old man and an old road. That other book, By Mopar to the Golden Gate, told of a single excursion lasting a few weeks. A Decade Driving the Dixie Highway draws on roughly thirty road trips spread over eleven years. Multiple trips were pretty much required since the Dixie Highway was not a straight forward point to point road but a system that connected ten states with nearly 6,000 miles of roadway.
Road scholars Brian Butko and Russell S. Rein both contributed glowing modesty-challenging blurbs that appear on the back cover.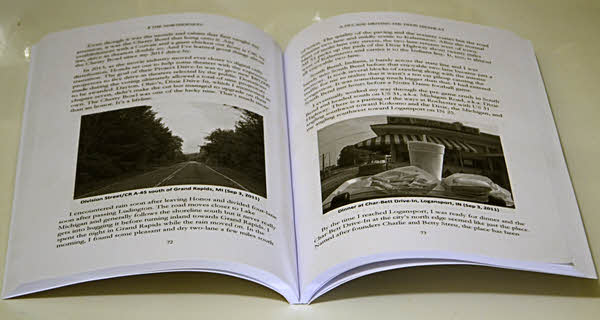 A Decade Driving the Dixie Highway is available as a Kindle download (with color photos) as well as a paperback. Either may be purchased through Amazon and the purchase of a paperback there includes the ability to acquire the Kindle edition for a couple bucks. I've also set up an eBay listing in an attempt to make providing signed copies easier. I can't offer access to the Kindle download or the potentially free shipping of Amazon but they can't ship books with my scribbling in them.
The book was produced through Amazon'a CreateSpace and there is a CreateSpace eStore although I can't think of any reason for someone to buy there. I do get a slightly bigger cut on sStore sales but there is no Kindle access, free shipping, or autograph. The book may eventually be available through some other channels but for now the two sources I'm suggesting are Amazon and my eBay listing.
A Decade Driving the Dixie Highway, Denny Gibson, Trip Mouse Publishing, 2015, paperback, 9 x 6 inches, 152 pages, ISBN 978-0692516966.
Signed copies available through eBay.
Reader reviews at Amazon are appreciated and helpful and can be submitted even if you didn't purchase the book there.