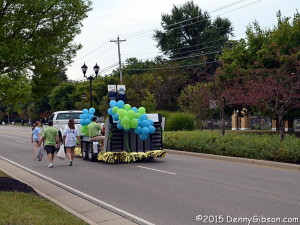 In addition to a film festival, visiting ships, a new mile marker, and the country's biggest Octoberfest (which I've yet to attend this year), this week included a parade in the nearby city of Mason as part of its bicentennial celebration. I managed to see the entire parade but it wasn't all that easy. There is a long walk as well as a long story behind the picture at right.
By the time I started for Mason following the pancake breakfast at the condo clubhouse, the parade route had long been blocked off. I thought I might be able to drive closer to the parade start than to its end so that's where I headed. My thinking was correct and I parked within half a mile of the point of beginning. It was almost close enough. The parade started promptly at 10:00 when I was still a couple of blocks away. I immediately went into high-speed pursuit mode (i.e., a brisk walk with a few cut corners) but only started closing in on the lead entry as the parade neared its point of ending.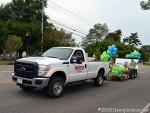 Of course that lead entry carried the parade's Grand Marshal to whose identity I had not a clue and neither, as far as I can tell, does the internet. The distance from my parked car to the parade end point was about a mile with the "high-speed" parade route portion accounting for about two-thirds of that. A nice, though unplanned, workout.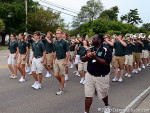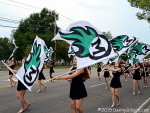 The Mason High School Marching Band was not far behind. They quite reasonably had a two song repertoire for the parade and it had cycled several times during my pursuit and overtaking. One song I can't remember and one song I can't forget. For the second consecutive Saturday, I got to hear Hang on Sloopy live.




In the interest of time, I'm going to forego any pretense of posting a representative set of photos. Instead, here, without explanation or justification, are a few I just like.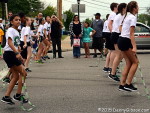 When your city is ten or twenty times your age, you can jump — repeatedly — for joy at the birthday party. I'm sure they could have caught up with the Grand Marshal before the second verse of Sloopy.