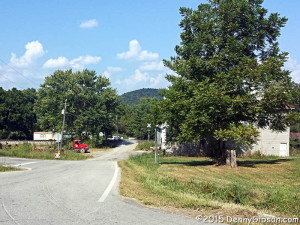 It didn't start out that way but the week got quite busy toward its end and there were several good candidates for the weekly blog post. I couldn't pick one or, to be more accurate, I couldn't throw any away. So, I've included them all. Because of timing the last one does get its own entry. The rest appear here.
The picture at right was taken Sunday. It was a beautiful day and, as frequently happens, I found myself cruising east along the Ohio River's north bank. New Richmond, OH, is a common turn around spot although I'll sometime go on to cross the river at Maysville, KY, and return on the river's south side. This time I went all the way to Portsmouth before crossing over. I've idly followed the river to Portsmouth before but I guess I've always headed home through Ohio. I wasn't expecting to come upon the town in the photo but it looked familiar and I soon realized why. I'd been here before, arriving, quite intentionally, from the west. The reason? This is Concord, KY, where the very first episode of the Route 66 TV series was filmed.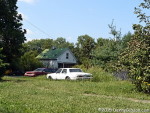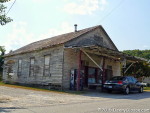 I drove through the town and found it even emptier than I had in 2008. Just before I drove on, I used my phone to snap that opening picture and post it to Facebook where it got a few comments from Route 66 fans. That would likely have been the end of it had not Route 66, co-star Martin Milner (Tod Stiles) died the very next day. He was 83 and died quietly at home. His passing prompted this post using a couple of pictures from Sunday to help with an after the fact "update" of my first visit to Concord. The first picture is of the lawn that Ed was mowing when I first saw him. I took the house to be where he and Johnny lived. On Sunday, there was a cluster of old chairs near it just as there had been in 2008 but today they were all empty with no hints as to when they were last occupied. The second picture shows the building that had the newspaper article in the window in 2008. There was no article this time and unidentified items were stacked against the inside of the windows. There was a handwritten "CLOSED" but I've no idea whether it was for the day or forever. Of course, Milner's passing also brought back memories of the only time I ever met him. It was in 2003 at my very first Route 66 festival. The meeting was brief (It was an autograph session.) but he was quite friendly and readily agreed to a photo which someone (I think it was his daughter.) took with my camera. Communication was less than perfect and somewhere I have an 8 x 10 glossy signed "To Benny".
---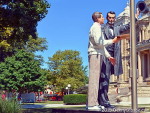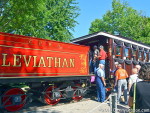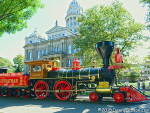 Even before he finished the full-sized working replica of the Civil War era steam locomotive Leviathan, Dave Kloke realized that his dream of using it to recreate the 1865 journey of Abraham Lincoln's body from Washington, DC, to Springfield, IL, would not come true. Having the old style technology share tracks with modern diesel powered trains just wasn't feasible. However, the big engine and an exact replica of the funeral car that carried Lincoln home are visiting many of the cities that were on the 1865 route including Troy, Ohio. That's where I was Thursday afternoon to see the train on the first of its four days in town. Take a peek inside the cab and car here and here and visit the train's website here.
The train is in the background of the third photo. In the foreground is a 30 foot tall version of Seward Johnson's Return Visit. Visitors to Gettysburg, PA. will likely have seen the life-sized original in front of the Wills house where Lincoln put the finishing touches on a certain speech. Troy has displayed various Seward Johnson sculptures in the past and is the first to display the giant Return Visit. It has been there all summer (Here's a picture I took about a month ago.) and will remain through October.
---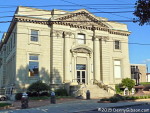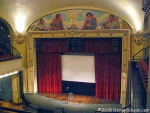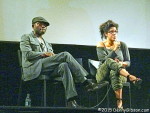 Thursday evening saw the opening of the ten day Cincinnati Film Festival. I'll admit to being almost as interested in the venue (The Carnegie) as the program. Apparently not many were interested in either or — more likely — hadn't heard about it. A couple of the speakers mentioned an audience of thirty-five and I think they were just about right. There was only one film screened on this night but it was preceded by about half a dozen local female comedians and the movie's star, Rain Pryor. After the showing of of That Daughter's Crazy, Rain (Richard's daughter) and producer Daryl Sledge fielded questions from the audience. The movie was quite good and the unfiltered Q&A very informative.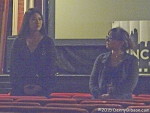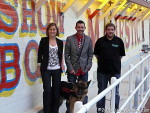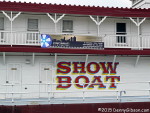 Friday night's venue had me even more excited. This was my first time on the Show Boat Majestic since attending one of the final shows there in 2013 and the first, as far as I know, she has been used since that run ended. Here's a full view of her. Attendance was even poorer than the previous night with no more than ten audience members for either of the two films shown. Three films were scheduled but that was cut to two because of equipment problems. Searching for Home tells the stories of veterans damaged by war and various healing and coping methods. The Battle Buddy Foundation is one of the organizations featured in the excellent film and co-founder Kenny Bass, along with his battle buddy Atlas, was on hand to answer questions after the screening. That's Kenny in the middle with his wife on his right and his brother Jon Campbell, also a Battle Buddy co-founder, on his left. The second film, Bad Moon Rising, was a Japanese language drama with English sub-titles. It was entertaining but not easy to follow. A Q&A session with actress Chihiro Seko and festival director Kat Steele followed.