A couple of weeks ago, the amount of miscellany filling my life prompted two posts: Much Miscellany and Much Miscellany 2 Sloopy at 50. I don't often appear in my own posts and I didn't appear in either of those. I did, however appear in the posts of others — sorta.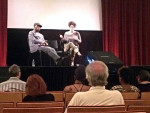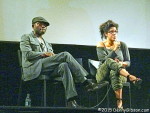 One of the activities in the first Much Miscellany post was the Cincinnati Film Festival. My post included a photo of producer Daryl Sledge and comedian/actress Rain Pryor during the opening night Q&A. That's the first picture to the right. The other pictures is from the festival's Facebook page showing that they were keeping an eye on me that night.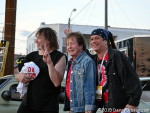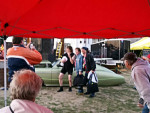 The second Much Miscellany post covered a Rick Derringer concert held as part of the Union City Arts Festival. It seems they were also keeping me in sight. The first picture is one I took of the band and the second is one from that festival's Facebook page. I don't know whether I'm being stalked or if both festivals simply had photographers with really bad luck.