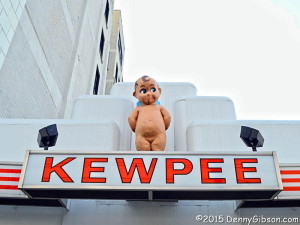 I attended a Dixie Highway presentation on Thursday. It was in Cridersville, Ohio, about a hundred miles north of my home. Another fan of old roads, Russell S. Rein, lives about the same distance north of Cridersville as I live south of it and he would also be attending the event. In fact, it was Russell who had made me aware of it. Since Criderville is very near Lima, Ohio, Russell suggested we meet at the downtown Kewpee Restaurant there for dinner. I'd actually been thinking of that myself so needed no convincing. We had a plan.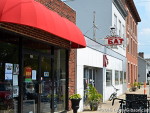 It was a fine looking day so, with ample time for the drive, I set off to follow the Dixie Highway, more or less, to Lima. In Troy, I slipped about a block off of the route to visit K's Hamburger Shop. The Dixie Highway Association disbanded a few years before K's 1935 birth and, although there are sources that describe its route as running right in front of K's on what is now OH 41, it's more likely that the highway turned south on Market Street just a little west of the shop. Unbeknownst to me, K's celebrated their 80th anniversary on July 31. I'm sure sorry I missed that but I did have a hamburger and a piece of pie today for a belated one man party.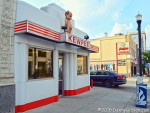 Kewpee Hamburgers began in 1923. This location opened the same year that the Dixie Highway closed, 1928. The highway ran a few blocks west of the restaurant so, while it was closer in time to the Dixie than K's, it was a tiny bit farther away in distance. The Kewpee also has wonderful pies but I opted for some soft-serve frozen yogurt to go with my 'burger.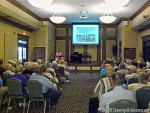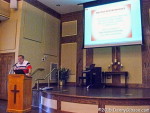 Russell arrived shortly after I did and we had plenty of time to eat and chat. Of course, we chatted just a little longer than we had time for and arrived at the presentation as the speaker was being introduced. Fortunately, the common aversion to front row seats meant we didn't have to climb over anyone to reach the empties. The speaker being introduced was retired educator LaRee D. Little who we later learned is the father of Ohio Lincoln Highway League president Scott Little.
Little opened with a nice overview of what the Dixie Highway was and how it came to be. He fleshed things out with stories of his own journeys on the Dixie, which began as a youngster traveling with his parents, and and a series of slides that included some photos from those journeys. There is an announcement for the Auglaize County Historical Society event here and a video report on it here. I don't believe either Russell or I learned anything new about the Dixie Highway but the presentation was quite entertaining and I'm betting that some of the others did learn a thing or two. Regardless, it sure was nice to see a whole room full of people showing interest in the Dixie Highway.