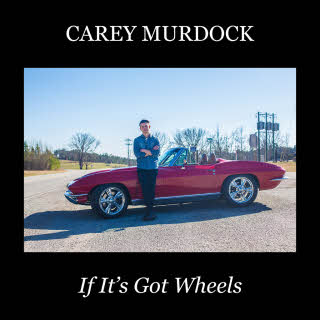 The title song is the opener and I'll admit I found myself wondering if that was a good thing. "If It's Got Wheels", the song, is a V8-powered rocker that heads straight for the horizon like something Springsteen or the Eagles might drive. But then what? Did Murdock pick this tune to lead off and supply the name for his latest album because that's all there is? The quickly apparent answer is a very loud NO. If It's Got Wheels, the album, is filled with powerful songs performed by a collection of talented musicians.
On my first listen, I found myself truly paying attention to those musicians as things kept right on rocking into the second track. I've seen Carey a few times. Always solo and always acoustic. I've heard other recordings with a band but, in hindsight, it seems I must have thought of the others only as accompanists for Murdock's distinctive vocals. As "Go On and Leave Me" played, I heard Nigel Lawrence's keyboard work and Mark Sieister's saxophone as important and integrated parts of the song and I started to realize just how much Lawrence and guitarist Steven Bryant had contributed to the opening cut. Drums and bass, John Henry and Warren Brown respectively, had also been important and solid and masterful. I don't know if this is officially the Carey Murdock Band but whatever the group is called, it's a good one.
Two tracks into the album, I was enjoying Murdock's writing and singing just as I expected but I was also enjoying and appreciating all the other players on the album, too. Despite the name, the next tune, "Don't Want to Slow It Down", slows it down but continues to show off the backing musicians Everyone is present, in a subdued sort of way, from the beginning but it's Henry who initially carries things with a slow snare only cadence. Before the song is over, the whole group is wailing and Henry's full kit is in on the action. For the moment, this is my favorite song on the album and the drum work is certainly one of the reasons but so, too, are lyrics, vocals, and the band's performance
I was loving this full team "wall of sound" approach but I was also concerned that it might have become a necessary part of Murdock's music. Track four, "Messy Love", straightened me out. With an acoustic guitar and his harmonica, Carey delivers this one all by himself. It reminded me that a good song can be performed in a variety of ways and will remain a good song. These are good songs and Murdock does what many musicians do not and includes a booklet with lyrics and other details for each of them..
With one exception, the full band appears on the remaining tracks. One of those, however, is missing Murdock. It's a one minute instrumental called "Interlude" that lets everybody showboat a little and which just might be used as a break song. I can almost hear "Short pause for the cause. Don't be rash with your cash. We'll be back in a flash" but, when it ends, there's Murdock singing the opening line of "Never Like This Before". Murdock's voice has been compared to Springsteen's and that's not a bad reference point. However, I've also heard him do a pretty fair job crooning Frank Sinatra tunes and there's a gravely end of his range that's more like the older Tom Waits. For this song, Carey uses his Tom Waits voice.
The full band exception I mentioned is the last song on the album, "In This Together". The only instrumentation is Murdoc's acoustic guitar with Steven Bryant supplying both bass and drums. The song was co-written with former Taylor Swift fiddler and backup vocalist Caitlin Evanson and she joins Carey in singing it here. Murdock's voice touches on the gravely Waits-ish sound in a few places. Evanson's decidedly does not. It's a beautiful way to end the album.