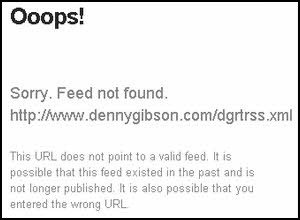 Nobody sees the trouble I've known. Maybe not nobody, exactly, but not many. There are two primary RSS feeds published by this site. One is for this blog. The other is for the trip journal. Among the many ways of subscribing to these feeds is a service called Feedly. It is well done and popular. It is the RSS reader I use. If I didn't, I wouldn't have seen the trouble myself.
People subscribe to feeds through Feedly and Feedly periodically fetches current copies and makes them available in a convenient and personalized manner. Feedly users can read and manage dozens or hundreds of uniformly presented feeds without dealing directly with the individual providers. It's a fairly common producer to broker to consumer arrangement.
Back in March, I noticed that some of my posts were failing to show up in Feedly even after several days. A fairly convoluted email exchange between me, Feedly, and Arvixe, my hosting provider, followed. It was eventually discovered that Arvixe was blocking Feedly and the block was removed. Because of the asynchronous nature of Feedly's polling and of RSS in general, things were not instantly fixed but caches, buffers, clouds, and other nebulous cyber-things eventually worked through their stockpile of bad-stuff and started working properly again.
Unless you were paying close attention to dates and time stamps, you might not have realized there was any sort of problem at all. The screen capture at the top of the article is from an attempt to subscribe to a blocked feed through the Feedly Google Chrome plugin. Existing subscribers would have seen nothing; No new posts and no error messages. For those unfamiliar with RSS, think of the problem as somewhat similar to a friend trying to call you with a broken phone or service. Your phone doesn't ring but you don't know that it should so see no problem. Even the friend may not see a problem if the failure shuttles them to a voice mail system. You only become aware of the issue when the friend confronts you in a bar about never returning their calls.
The problem resurfaced during the first half of June and this time, after about a week of that convoluted email three-way, I learned of a fourth player in the game. Arvixe uses a security product called BitNinja. Something about Feedly's access tripped BitNinja's defenses and a block was activated. Unknowing Arvixe technicians repeatedly removed the block only to have it reappear a few hours later. Once in awhile, the short-lived removal and Feedly's polling lined up so that posts would slip through. They might appear in a clump and they would have the current rather than publication date but they could be seen by subscribers.
When I first learned of BitNinja's role, I urged Arvixe to configure their installation to have the security service treat Feedly as a good guy. They, for valid reasons, declined. I also pressed them for a description of what specific aspect of Feedly's access raised BitNinja's hackles. Near the beginning of the episode, Feedly had suggested they might be able to alter their behavior if specifics were available. Not being privy to BitNinja's inner workings, Arvixe could not supply those specifics. Although it was Arvixe who first mentioned it, I suspect all of us thought of it about the same time. Feedly needed to deal with BitNinja directly. The problem might not be limited to my website or even to all Arvixe hosted websites. The risk of Feedly being blocked could exist everywhere BitNinja was being used.
Feedly did contact BitNinja directly and, while I don't know the details of the exchange, I do know that it resulted in BitNinja removing "a too strict log analyzing rule" about a day later. That was just over a week ago and since then my feeds seem to be flowing through Feedly as they should.
Maybe we should have dug a little deeper in March and it would have been nice if we had not thrashed about for a week in June. There were times when I thought Arvixe could have been more cooperative and Feedly more responsive. I don't think anyone involved is a candidate for Trouble Shooter of the Year but neither do I think anyone screwed up horribly. I can't be certain that the same problem won't pop up again in a couple of months though I'm positive that some problem will pop up someday. This episode has increased my confidence that, when it does, these vendors — Feedly, Arvixe, & BitNinja — will get it sorted eventually. It would be nice is the next problem is as invisible to readers as this one was but I'm not going to count on it.
Incidentally, this post's title comes from a Wheels song that, in case you don't remember it, is here.