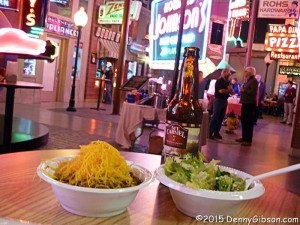 I put Wednesday's screening of the movie Sign Painters at the American Sign Museum on my "maybe" list as soon as I heard about it. It was moved to "probably" when I learned dinner would be included. When I found out the museum's almost neighbor Camp Washington Chili would be doing the catering, I bought a ticket. I've eaten at CWC many times and I've eaten many things there but never a salad. I don't believe it ever occurred to me that they would even have a salad. It was quite good and apparently can be had with grilled chicken at the restaurant. Who knew?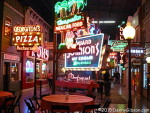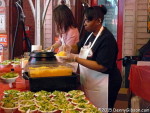 The beverage table never really got crowded but I hit it before even a hint of a line formed. Local (Mount Carmel & Christian Moerlein) and "other" beer was available along with wine and soda. I made my food line pass after the initial rush. There were 3-ways and coneys in addition to the aforementioned salad and they even had cold-cut sandwiches. I'm guessing those were for the out-of-towners.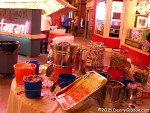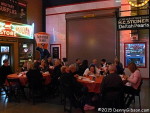 The tables that were empty when I took my picture of the beverage table, were filled as soon as the food was served as were other tables throughout the museum. Paint trays and cans held a variety of movie-appropriate sweets and one pail was filled with small paper bags so you could carry a supply of Lemonheads, Charleston Chews, Bulls-Eyes, Necco Wafers, and other goodies into the viewing room.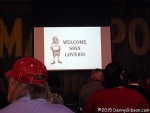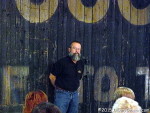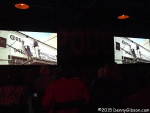 As showtime approached, a drawing of museum founder Tod Swormstedt (accurate enough to identify him should he ever go missing) was replaced by the real thing and Tod introduced the movie. Two large screens were filled by a pair of synchronized digital projectors so everyone had a good view. The event had sold out several days earlier. I don't really know what that means but something like 200 attendees seems a reasonable guess.
Sign Painters features interviews with a number of painters plus quite a bit of footage of some of them at work. A few of the painters are in their thirties but most are older and there is, as you might expect, plenty of talk about the good old days when sign painting was a thriving profession. There is no question that automation and the availability of cheap — in every sense of the word — product have wreaked havoc on the field but not everything is doom and gloom. There are still people who feel called to paint signs and there are still some customers who appreciate the value of hand crafted advertising. In particular, large wall signs are often seen as worthwhile and they remain something that takes a human touch.
At one point in the movie, I found my mind returning to thoughts of a couple weeks ago. I was loosely following an online discussion about ghost signs. Ghost signs are always old so they are almost always faded and they often, but not always, advertise something that is no longer available. They can be considered eyesores or glimpses of history. People may tend to lean one way or the other but opinions are often of the "it depends…" sort. I believe my participation in the discussion was limited to sharing a link to a local radio story on ghost signs. The story uses the words "art" and "pollution" but that's really just another way to say "history" and "eyesore". In the movie, when a large and fading hand-painted advertisement is painted over — by hand — with a new and very different advertisement neither of the signs seem very important. It doesn't matter whether some history gets covered over or if an ugly wall is made beautiful. What matters is that an art form, a skill set, a profession gets to breathe a little.
The museum's parking lot is not huge and, in addition to the chili and beer and candy and movie, there was free valet parking. I tucked a couple of bucks into my shirt pocket for a tip but by the time my car was pulled up to the door, I'd already heard what the valet would say to me. "No, I can't take that. No tips. We've been taken care of." Me too.