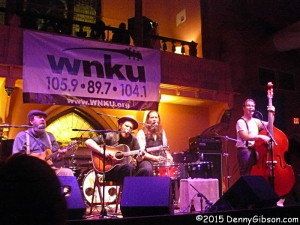 Once again I was within minutes of posting a Trip Pic Peek when I decided to do something like what I did a couple of weeks ago and make a quick post with a picture of my favorite thing from the week. I didn't do much this week. We had record-for-the-date temperatures and snowfall and I spent a few days battling a cold. It was all I could do to see sixteen bands.
My favorite radio station, WNKU, celebrated its first thirty years and raised a little money for the next thirty with a two night event at The Southgate House Revival featuring fifteen performers each night. A Saturday pre-show party with one of the performers from Friday and two new additions brought the total to thirty-two. I didn't see them all. That would have meant staying up way past my bedtime. I concentrated on seeing acts that were new to me and, having seen both night's "headliners" before, I was able to cut out early each night. However, I did stay a little later than planned on Saturday. I intended to listen to just a few songs from Buffalo Wabs & The Price Hill Hustle but ended up staying for their full set. They are this week's favorite thing.
When I first started hearing of them, I kept putting a "The" in front of the name and thought it odd that these two bands kept getting booked together. I eventually learned that it was a single group and this week I learned that Buffalo Wabs isn't a band. It's guitarist Matt Wabnitz's nickname. Their website says he handles "most of the vocal duties". That may be true but The Price Hill Hustle (Casey Campbell, Ian Mathieu, and Scott Risner) all sing and the harmonies are fabulous. They're almost as much fun to watch as they are to listen to. It's kind of hard to see but that really is a log chain that Casey's playing that snare with.
Here's the full line-up, with the acts I saw in bold:
Friday – Wild Carrot, 500 Miles to Memphis, Jason Wilber, Will Kimbrough, The Tillers – Alone at 3AM, Frontier Folk Nebraska, Noah Wotherspoon Band, Arlo McKinley & the Lonesome Sound, Charlie Mars – My Brother The Bear, The Great Wide Open, The Repeating Arms, Honey & Houston, The Part-Time Gentlemen.
Saturday –  Chardez, Nikki Lane, Jason Wilber – The Bromwell Diehl Band, The Newbees, Buffalo Wabs & The Price Hill Hustle, Noah Hunt & The Scotty Bratcher Band, The Cliftones – William Matheny, Ben Knight & The Well Diggers, Tyler Childers & The Food Stamps, Hocking River String Band, New Country Rehab – Willow Tree Carolers, BMV, The 220 Breakers, Nick Dittmeier Band, The Ready Stance.