The year in numbers with 2013 values in parentheses:
7 (6) = Road trips reported
80 (77) = Blog posts
77 (57) = Days on the road
1972 (1437) = Pictures posted — 384 (406) in the blog and 1588 (1031) in Road Trips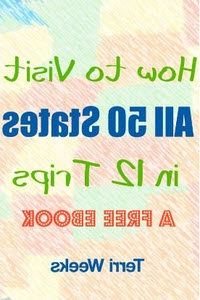 When days on the road increase, an increase in pictures posted is sure to follow. Last year an additional twenty road days yielded an additional 557 road trip pictures. 35% more days resulted in 54% more photos. Blog pictures decreased slightly. In addition to the 52 regular weekly blog posts, there were 16 reviews, 7 road trip links, and 5 miscellaneous asynchronous posts. The number two and three blog posts from 2013 moved up to one and two. Last year's most visited post stayed in the top five at number four leaving just two of the top five slots for new posts. The most popular item posted in 2014 was the review of an ebook.
Top Blog Posts:
Top Non-Blog Posts:
Visits to the website increased to 248,033 from 170,809 last year and page views rose to 741,404 from 467,084. WordPress' Jetpack reports 8,062 views (up from 6,863) for the blog in 2014.
The increases are modest. Heck, the total traffic is modest, but I'm happy with it. I wouldn't object to a little more feedback but that's not the same as being unhappy. I'm a little disappointed that nothing I added to the journal in 2014 generated more interest than stuff from 2010 and earlier but I'm definitely not unhappy about that. It's rather nice, in fact, that four and more year old articles still get read. I made no structural changes in the website in 2014 and I anticipate none in 2015. From here, it looks like another non-jiggy year has just begun.